Explore a place of unlimited captivating contrast where you will see how old-world elegance coexists with a metropolis city. Discover the city of skyscrapers and shopping malls that have evolved from a desert outpost to a popular vacation spot.
Yes, you are thinking right! I am talking about Dubai which has the ultimate outlook to draw visitors in search of great deals, warm weather, and interesting activities. There are many fascinating destinations to visit in Dubai like The Burj Khalifa, Burj Al Arab, and shopping centers.
The shopping centers feature gigantic aquariums, indoor ski areas, and other famous tourist attractions. Despite its abundance of glossy modern luxuries, the city also has a tonne of historical landmarks and things to do.
The popularity of the city revolves around its opulence and ostentatious lifestyle, colorful and vibrant nights, and spectacular eyes views of the stunning Dubai skylines. This is clear that you will not get bored on your nights as well as days as you will see exotic night entertainment, sandy beaches, high-rise structures, extensive shopping malls, and opulent hotels.
Although there are many majestic places to discover in the beauty of landscapes, visitors should make a list of what they want to see first. I have listed here some of the trendiest tourist attractions in Dubai for you to check out!
Best Place to vist dubai for Tourists in Dubai
Planning to Dubai without knowing the top touristic attractions will not give you the charm that you deserve. The beautiful landscape is a wonderful illustration of what perseverance and sustained effort can do for a city. No doubt, the journey from being a port to one of the most visited destinations worldwide is a long way. So have a glance at the famous destinations and see why they are renowned.
The Burj Khalifa: The world's tallest building with a height of almost 828 feet and 163 floors is here for you to visit and explore.
Dubai Marina: Move towards Marina Dubai is renowned for its beautiful Jumeirah Beach and 45K individuals living in sky-scraping opulent high-rise structures.
Global Village Dubai: Amazing place for families, full of attractions and super affordable budget is the Global Village with a wide range of cuisines, various pavilions, street markets, entertainment, and traditional shows.
Dubai Garden Glow: Here tourists will get a unique world of art and theme creation providing a view of the imaginative world. The best colorful thing is that it has more than 200,000 flowers and plants in it from different countries of the world.
The Dubai Fountains: The Dubai dancing fountains gives a spectacular view of dancing water fountains located in Downtown Dubai with captivating music.
Burj Al Arab: The Burj Al Arab is a famous iconic hotel of Arabian luxury with 202 rooms and 56 floors in it. Moreover, visitors will also enjoy more attractions in it.
Dubai Miracle Garden: The most beautiful and largest natural garden in the world is located in Dubai with 150 million flowers and gives a magnificent colorful view.
The Dubai Frame: This is one of the largest frames in the world with a museum, manometry, and Tower in Zabeel Park, Dubai.
The Palm Jumeirah: The Palm Jumeirah is a famous artificial island, the archipelago looks like a circled stylized palm tree.
Ain Dubai: The amazing attraction for kids and youngsters is to visit Ain Dubai, the largest and tallest Ferris wheel situated on Bluewaters Island.
The Dubai Mall: Get yourself to indulge in the second-largest shopping mall in the world with interesting activities in dubai mall to take part in.
Amusement Parks and Water Attractions
Visit the best amusement parks and water attractions in the middle east with different theme areas, roller coasters, and rides.
IMG Worlds of Entertainment: Explore the entirely indoor theme park renowned as the world's first gigantic entertainment complex.
Aquaventure- the best water park: Have a meeting with the incredible aquatic animals at Dolphin Bay and Sea Lion Point in the famous Aquaventure water park.
Laguna Water Park: Get splashing Fun with your friends and family at Laguna Park and see the breathtaking views of the infinity pool.
Wild Wadi Water Park: The amazing fun moments with family is hidden in Wild Wadi Water Park located near the renowned Burj Al Arab.
VR Park: The top amusement park is located in Dubai for VR game lovers with a wide range of activities like VR Balloon and Dune Bashing.
Bollywood Park: By name, tourists can guess it is dedicated to the film industry of Mumbai, India. This park is full of action, adventure, dancing and romance, and other.
Parks and Resorts: As the landscape is full of adventures, it is not possible for visitors not to find resorts in it. Legoland Dubai, Legoland Dubai Resort, Motiongate Dubai, and Riverland are among additional well-known resorts and sites in Dubai.
Added to that you can also visit Atlantis Aquaventure Waterpark
The best indoor activities in Dubai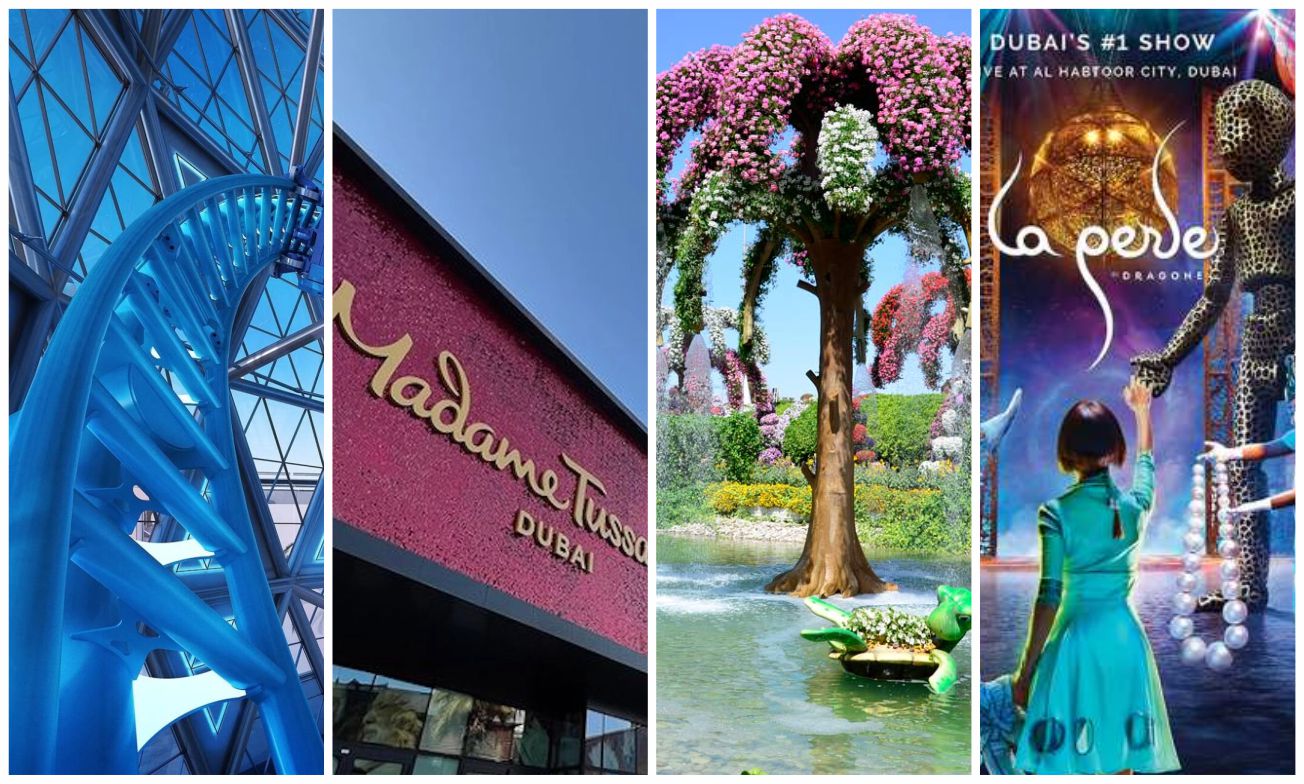 Dubai is famous for all the indoor activities for people of all ages with their memorable experiences. As all know that Dubai has a high temperature of about 40°C, and its indoor attractions are captivating to take part in for tourists.
Make your trip remarkable by enjoying all the activities in Dubai when you want to cool off after experiencing hot weather.
Storm Coaster: The fastest indoor roller coaster is located in Dubai for visitors to get a thrilling ride.
The View at the Palm: The famous 360-degree view over the Palm Jumeirah makes the indoor adventure more special.
Madame Tassauds: Explore the featured attractive statues with worldwide athletes, actors, political figures as well as Arab famous personalities at Madame Tassuads.
Dubai Butterfly Garden: Located behind the Dubai Miracle Garden with almost 15,000 beautiful butterflies in it giving a magnificent view.
La Perle by Dragon: Engage yourself in the pearl diving history of UAE in distinct spectacular design at La Perle by Dragon.
Museum of Illusions: Get entertained with your whole family at the immersive optical collections at the Museum of Illusions with 60 different exhibitions.
The Lost Chambers: The lost chamber is an aquarium of 65K aquatic animals in it.
The Green Planet: Located on the Citywalk and recreates the enchanted realm of tropical forests in it with 3000 plants and animals.
Ski Dubai: To learn the best snowboarding and skiing in Dubai, get the most out of it.
Emirates A380: Situated in the Dubai Mall, gives the rank of a flight simulator to visitors.
Oli Oli Experiential Children's Play Museum: A large indoor paradise is here for your kids to engage in various hands-on activities.
3D World Dubai Selfie Museum: A massive museum situated in Al Qouz with 9 distinct zones.
Famous Beach points and Outdoor Attractions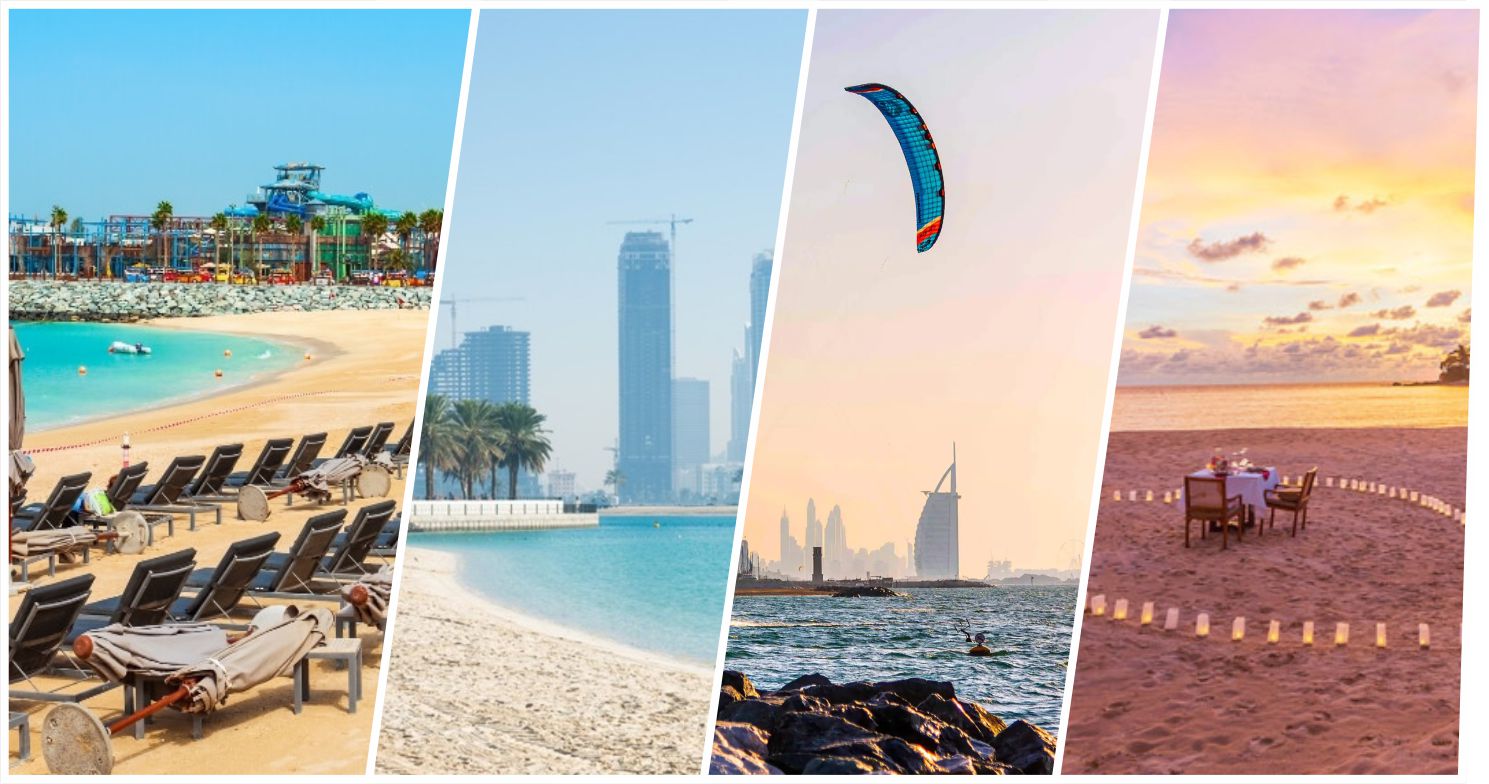 Besides all indoor activities, visitors will surely enjoy the outdoor attraction in the famous city land. The snowy-white and sandy beaches with aqua-blue water bring more charm to your tour.
Black Palace Beach/ Al Sufouh Beach: Provides mesmerizing sunset views as well as spectacular views of the Burj Khalifa, Palm Jumeirah, and the hotels of Madinat Jumeirah.
Kite Beach: The famous natural on the shore of Dubai is Kite Beach popular for its powerful waves and wind.
Mercato Beach: Hidden and quiet beach for tourists to get relaxed over the Jumeirah Beach Road.
Jumeirah Beach: Enjoy a popular spot for swimming and sunbathing with the glistening seas and snow-white sands of Jumeirah Beach.
Sunset Beach: Famous for stunning sunset vistas and scenes of Burj AL Arab in the evening.
Al Mamzar Beach: This beach is extended to 106 hectares with amazing pools for families to get relaxed on the sandy shore.
White Beach: Offers the best skylines in the city and is famous for the Dubai club name called "White".
La Mer Beach: Famous for 180 shops, cafes, bars, and ice-cream parlors. Enjoy delicious cuisine at the sandy beach in your leisure time.
The Beach and The Walk: A popular tourist option surrounded by well-known hotels with full ease to culinary, entertainment, and retail destinations.
Significant Historical and Cultural Landmarks in Dubai
As you know the UAE is based on the traditional values and culture of Arabs, they mainly follow the Islamic culture. To get an Islamic influence of Arab dressing, music sense, architecture, and Bedouin way of life, you need to know about their historical and cultural places.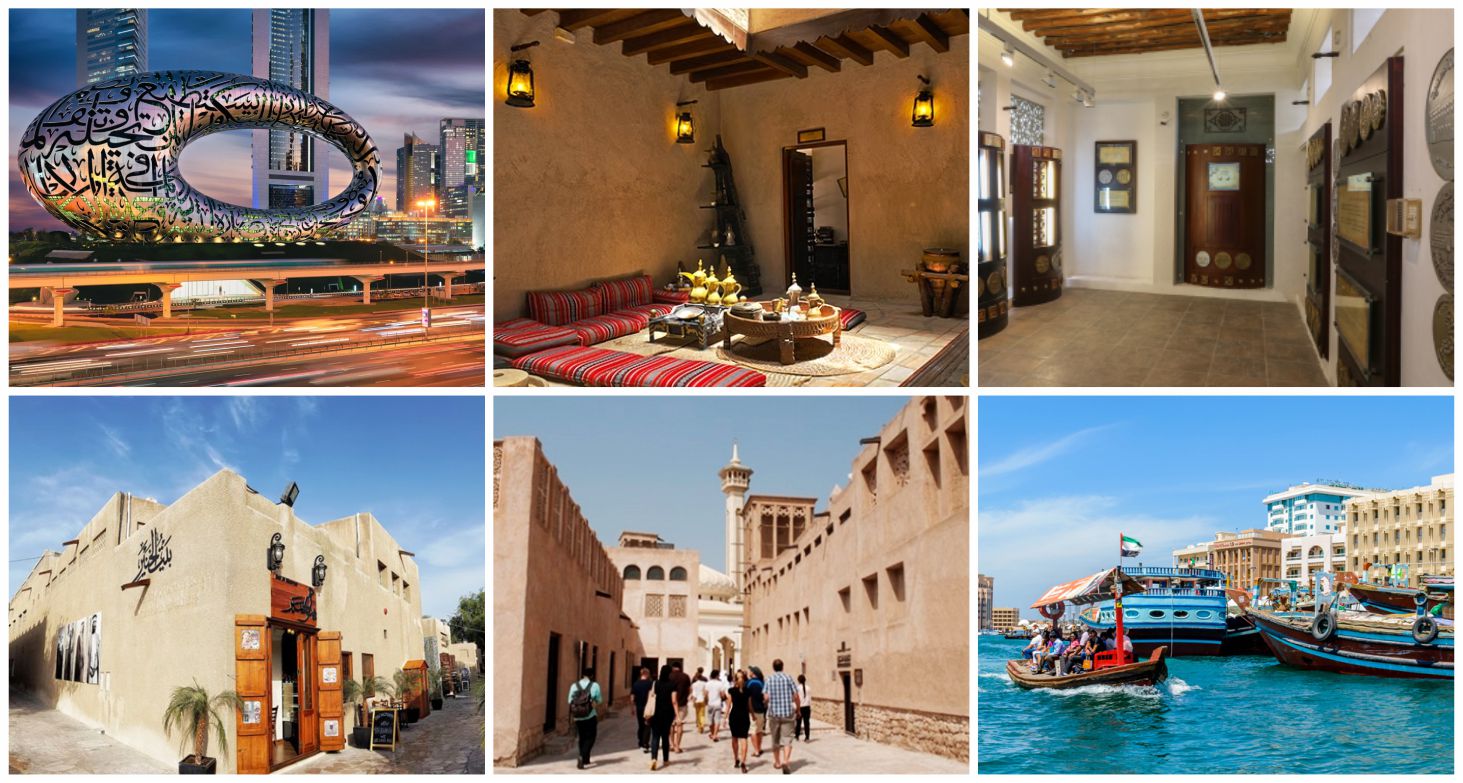 Let's take start with Al Fahidi historical neighborhood, the most significant and advantageous location on Dubai Creek. The Creek has been serving as the center of trade, luring ships and traders from different parts of the overall world. Many noteworthy highlights of this district, which is the earliest in Dubai, are listed below:
Explore Arabian Tea House – Beautifully crafted Emirates Food Culture
Dubai Museum – Built in 1787 includes life-size dioramas (entrance ticket is only 3AED)
Coffee Museum – a place for coffee lovers has been set up in Dubai's well-known heritage hubs
Coin Museum – 470 rare coins collections representing all significant periods of the Middle East's history
XVA Gallery, Café & Hotel – features 14 distinct individual rooms, a lovely haven to unwind in.
Bayt Al Khanyar Museum – a unique insight into most iconic items with rare antiques.
Sheikh Muhammad Center – a real place of Emirates culture for tourism
Traditional Abra Ride – Famous ride across Dubai Creek (for only 1AED)
Traditional Dubai Souks
Visitors will be amused to explore the hidden gems at different traditional and modern souks, a handful dating back many hundred years ago. A few famous souks are given below;
Gold Souk – More than 350 gold dealers, selling gold in both conventional and innovative designs.
Spice Souk – a pleasant ambiance with a wide collection of spices.
Perfume Souk – gives a variety of brilliant blends and is a key hallmark of Arabian life.
Textile Souk – a commercial center for the trade of textiles.
Naif Souk – excellent general area for a wide range of middle-east goods, popular for women abayas.
Famous Dubai Mosques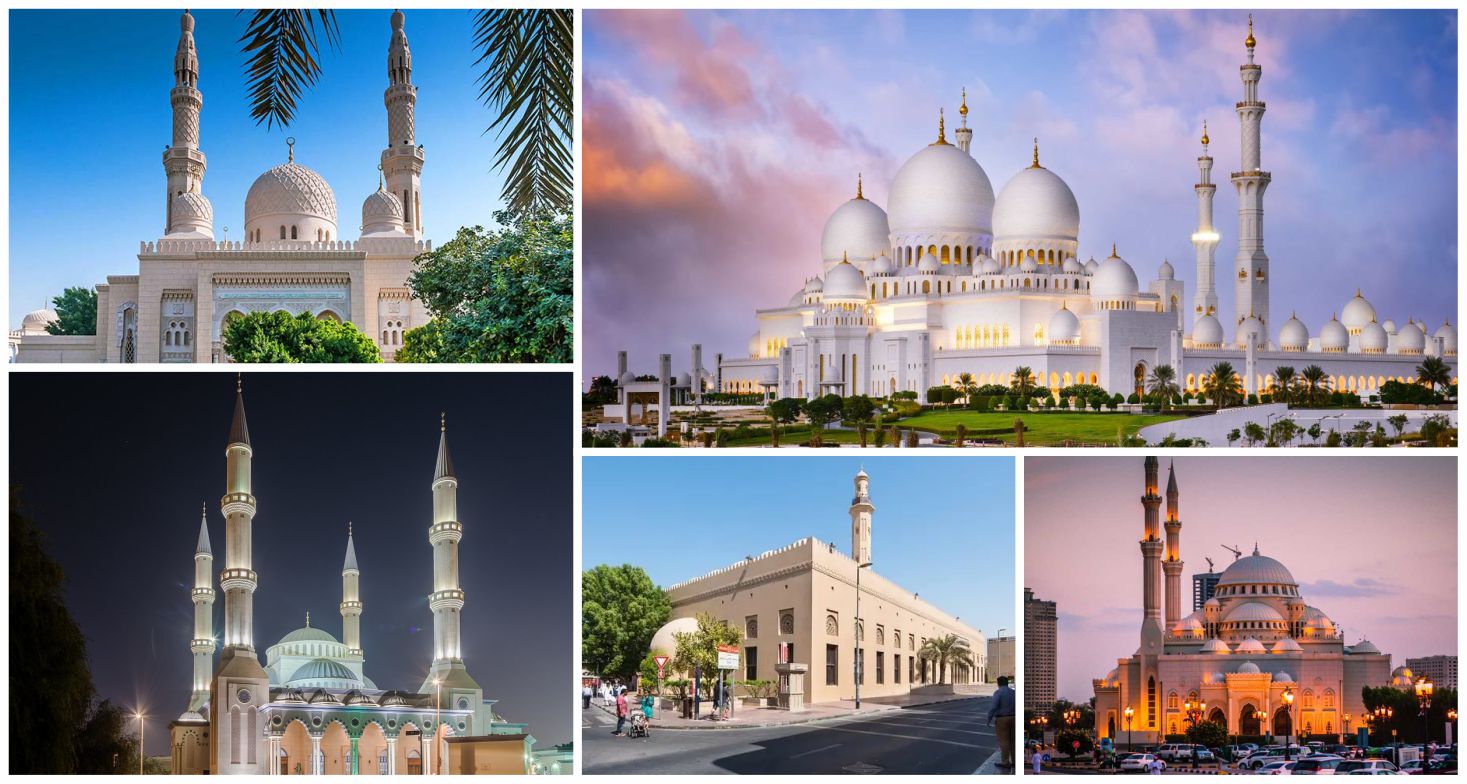 There are several mosques in Dubai but the recent estimate put a number at up to 2200. All mosques give a magnificent worth exploring architecture but the popular ones are given below;
Jumeirah Mosque – the most photographed mosque built in the Fatimid style of pure-white stone.
Al Noor Mosque – the most exquisitely decorated mosque, based on Turkish Ottoman Design.
Al Farooq Omer Bin Al Khatab – a brilliant Arabic civilization bridge located in the heart of Al Safa.
Sheikh Zayed Grand Mosque – explore the largest mosque offering all the Islamic teachings including respect, love, harmony, and forgiveness.
Grand Bur Dubai – the largest mosque in UAE and third-largest in the world constructed in the spirit of Islam.
Explore Dubai Museums
The city's tour is incomplete without discovering the rare artifacts in museums located at different places. Have a look at famous museums;
Etihad Museum – a collection of immersive pavilions (for only 25AED)
Pearl Museum – a wonderful assortment of natural pearls
Majilis Ghorfat Um Al Sheif – discover the ambiance of Dubai's governing councils
Dubai Police Museum – displays the growth and development of the city's police enforcement.
Salsali Private Art Museum – a hub for collectors to communicate, learn, and exchange ideas.
Museum of Poet Aqeli – represents one colorful dignitary's life with beautiful traditional houses.
Al Shindagha – a universal story of human ingenuity, tenacity, and the drive for advancement.
Saroq Al Hadid – first aesthetic makeover in a series to transform Dubai's historic district.
Other Worth While Places in the City of Landmarks
There are many other places to explore the city of landmarks with their unique features and wonderful aspects to discover.
A standard theater configuration exists in the Dubai Opera House with a plain layout and even in a performance hall.
A renowned center for arts and culture named Alserkal Avenue is home to a variety of creative companies.
Get an immersive ideal collection at Dubai-designed District with open spaces to host public events.
10 gallery spaces with a design influenced by traditional Arab homes with courtyards are available at Jameel Arts Center.
Visit Dubai Art's Galleries to view a window of new pieces of art.
Top Culinary Adventures in Dubai
Is it confusing about what to take in food and what to leave? Explore a good variety of food at several restaurants in Dubai. A lot of dining experiences include dining in the dark as well as in the night full of stars with all international foods. I'll talk about various eateries in this section that are renowned for their delectable cuisine.
Boutique Breakfast – small cafes, unique breakfast places, reasonable prices, and seems historically accurate without becoming unkempt.
Classic Weekend Brunch – Famous Dubai Brunch, Saturday and Sunday brunches available.
Afternoon Tea – It embraces a good repute for elegance and luxury with several incredible experiences that combine traditional plates with a modern twist.
Walking Tour of Dubai – presents a multi-course dinner for tourists to stroll the most genuine traditional Emirati Food.
Souk on a rooftop – Best dining experience one can enjoy by souk on a rooftop with all-around beautiful scenarios.
Nightclubbing Scenes – This one is preferable for dancing lovers to incorporate dancing into their evening Brunches.
Traditional Emirati Cuisine – includes spices and vegetables providing a delicious taste from both the Middle East and Asia.
Amazing Shopping Centers in Dubai
If you are not interested to take in the shopping experience in Dubai, your tour will have no more charm in it. A multitude of different malls boasts fun attractions is there to visit in shopping malls. A few shopping centers that are worth visiting are discussed below;
The Dubai Mall – The second largest shopping center in the world with a lot of activities like Kidzania, Underwater Zoo, Hysteria, and many others.
The Mall of Emirates – 560 shops with a cinema complex, ski slope wonders, racing simulators, and other activities.
Mirdif City Center – One of the busiest malls with a wide range of activities for families including a gaming arcade, rides, bowling, and others.
Time Square – Mostly famous for its Ice Bar, includes a variety of shops, salons, restaurants, and other attractions.
Dubai Hills – Filled with a complete package of entertainment for families.
Dubai Festival City – Offers 400 outlets, iconic water wavefront dining areas, 50 restaurants and cafes, and lovely fashion brands.
Besides all these shopping malls, more best places for tourism include traditional as well as modern souks.
Indoor and outdoor vendors with numerous restaurants and beautiful canals are provided in the background of Burj Al Arab in Souk Madinat Jumeirah.
Unique passageways made of natural stones, subdued lighting, and Arabian design can be seen in Souk Al Bahar.
Seasonal Occasions in Dubai
Like all other nations and countries, Dubai has some traditional but seasonal events that are specified to celebrate on certain days.
Dubai Rugby Sevens – Annual rugby event held in December and is famous as the most loved event.
Dubai Summer Surprises – Provides a popular Dubai Fashion an exposition of Emirati Culture that offers a privileged peak to visitors.
Dubai Food Festival – Best gastronomy scenes with reasonable prices and highlighting the best culinary skills in the city.
Al Marmoom Heritage Festival – held in April to celebrate the diversity of Emirati culture and traditions.
Dubai Comedy Festival – Get your funny bone tickled held over May.
Dewali in Dubai – Significant Hindu festival that celebrates good for evil in late October/early November.
DP Tour World Championship – the biggest competition to take part by tourists from all over the world on the Greg Norman- Designed Earth Course at the Jumeirah Estates in Dubai.
Racing at Meydan Racecourse – One of the richest horse races gives the beautiful highlight of the city's horse-racing scene.
National Day – Take pleasure in commemorating the nation's birthday with Emirates and locals alike on 2/3 December.
Ramadan and Eid Festivals – Enjoy the holy month of Ramadan with Suhoor and Iftar along with delicious Arabian Dates.
Some experiences that make Dubai Tour Unique
Among all Dubai experiences, there are some more attractions that make the city remarkable and your tour more fascinating than any other part of the world.
The Hot Air balloon adventure is truly unique for tourists to float over the Dubai Desert and works when the hot air rises.
Enjoy a thrilling adventure by diving with the sharks at the lost chambers.
Have fun with the adrenaline rush on a thrilling 90 minutes Jet ski ride around Palm Jumeirah.
Have a glance at the city's landscapes on a helicopter ride.
Deep dives Dubai – Scuba Dives where you can indulge in depths of 60 meters.
Consider Tandem paragliding in the Hatta Hills.
Have a look at the incredible urban sky views in Dubai that features Sky Planetarium, Sky Glass Slide, and Sky Edge walk with breathtaking views over Downtown Dubai.
The Safari Desert Dubai
Many tourists are curious of knowing about Bedouin life, their cultures, and the captivating desert looks. So in the Dubai tour, with all indoor and outdoor activities, they will surely observe all about desert life along with live entertainment shows.
Explore the sandy dunes of the desert with either dune bashing or sandboarding.
Get a morning safari desert adventure with beautiful sunrise moments.
Natural beauty of the desert can be enjoyed by having a camel ride.
Choose the desert tour with Platinum Heritage which places more of an emphasis on the desert.
Spend a night in the desert full of bright stars in an overnight desert safari package.
Mesmerizing sunset views on the evening journey.
Live traditional dance performances in Dubai like Tanoura Dancing, magic fire shows, and belly dancing shows.
Other than the safari desert more barren land is worth seeing in Dubai.
Discover the Al Marmoom Desert Conservation area that features Love Lake and Al Qudra Lake.
Enjoy 4 x 4 driving to the abandoned settlement of Al Madam.
Have fun with the extreme sports of deserts by following a complete instructor's guide.
For those who want to stay in the desert by camping may visit the Al Maha family desert resort
Moreover, check out Bab Al Shams as well as the camel farm.
Move towards the hills and mountains!
Are you in doubt about the UAE Mountains? Don't worry, UAE has mountains and you are free to visit there. The famous Hajar Mountains are located in the North Oman region that extends along the Northern part of UAE. The majority of the mountains in UAE flow from the neighboring countries but one spot named Hatta lies in the outpost of Dubai. The Hatta Moutain village is assumed to be over 3000 years old but has restored its original glory with beautiful features.
Hatta heritage village – gives a complete village life and opened in 2001 to express the city's heritage.
Hatta Dam – was built in the 1990s to give electricity and light to the village area.
Hatta Honeybee Garden and Discovery Center – educate thousands of visitors about the beekeeping history and the importance of bees in the natural world ecology.
Hatta Wadi Hub Center – includes ziplining, wall climbing, mountain biking, shooting, and freefall jumps.
Several mountain routes are available for biking, equestrian riding, or simply walking.
Don't forget to miss the newly opened Hatta Caravan Park, Hatta Dome Park.
Try Additional Parks and Places in Dubai
Among all the famous parks and best places to visit in Dubai, some are left that increase the charm of the city's tour given below;
Golf in Dubai – Almost 10 to 12 lush green courses, all of the very high quality are available for play.
Quranic Park – Explore the display of seven miracles of the Holy Quran, a man-made spectacular interactive cave house.
Al Barari Playground – Popular for its greenery, grassy spaces, gardens, and waterways.
Zabeel Park – The largest public park in Dubai stands out for its immensity, covering 45 football fields, and the first advanced green park in UAE.
Mushrif Park – Have fun and entertainment in the natural beauty of splendid birds of the middle east.
Burj Park – offers unmatched views of the majestic dancing Dubai Fountains and the tallest Burj Khalifa tower.
Beach Tower Park – Amazing outdoor playing area for kids to enjoy a day at the beach in a lovely lush garden also known as Umm Suqeim.
Dubai Creek Park – the second-largest parkland in Dubai with three launch pads installed inside and accessibility to choppers.
Al Seef – the perfect destination for a tourist lifestyle that offers fantastic views of Dubai's famous creek, traditional dhows, and ancient architecture with modern convinces.
IMAGINE – Record-breaking attraction in Dubai's festival city that gives enormous aqua-screens, and draws on the strength of light, water, and fire.
Al Qudra Lake – Beautiful artificial man-made lakes for wild animals.
Wrapping it up!
In short, I have covered all the best places to visit in Dubai that are worthwhile to make visit. If you are planning to visit with your family or friends in Dubai, make a schedule of all the amazing places to see and explore the beauty of mesmerizing landscapes. All the historical, cultural, indoor, outdoor, and foodie adventures will make your visit memorable and surely you will try visiting Dubai again and again.
Frequently Asked Questions
Which one is the top tourist destination in Dubai?
Burj Khalifa is a famous landmark building in Dubai and is the best attraction for tourism.
What attributes make Dubai the most intriguing city on earth?
Although there are many places that enhance the charm of the landscape the area is well known for its lavish shopping, five-star resorts, desert nightlife, fantastic beaches, and stunning architecture.
How many days are recommended to visit Dubai for a short day tour?
The minimum number of days to make a visit even if you are planning for a short time is from five to seven days.
How many hotels are in Dubai for your stay?
There are almost 567 hotels in the city with all home-like luxuries. The option that best meets your financial needs is yours to adopt.
When the temperature of Dubai is cold throughout the year?
For a colder month, you may plan your visit in January but moderate temperature starts in November and ends in February.
What are some of the major destinations make Emirates worth visiting?
The top attractions for visitors that they should never miss while visiting UAE are;
The Burj Khalifa
Dubai Miracle Garden
Sheikh Zayed Grand Mosque
Ferrari World – Abu Dhabi
Burj Al Arab – a five-star hotel
The Dubai Shopping Mall
Warner Bros World Abu Dhabi
Why Dubai is more attractive for tourism?
The best things that reinforce tourists to visit a place include beaches, resorts, mountains, deserts, indoor and outdoor activities, shopping malls, and historical places. Since Dubai is full of all these packages, visitors can never miss it while visiting UAE.