A beautiful day with amazing Dubai mall activities to perform in Dubai mall with your kids will make the day more adventurous. The Dubai Mall contains a lot of spectacular attractions to visit for tourists. It is an obvious fact that the Dubai mall is considered one of the top tourist attractions for families as well as bachelors.

Dubai is simply bursting with accolades enclosing incredible indoor adventures in it. So one may not have perfect words to describe the fantasy of such indoor adventure for kids that can be performed in Dubai Mall. It is worth astonishing for Dubai visitors that Dubai mall is made of concrete and is a man-made masterpiece.
The majority of tourists make up their minds in such a way that they intend to spend some time visiting the mall and the neighborhood of Downtown Dubai. The commendably of Dubai mall runs about the fact that it is not your typical retail mall.
It is one of the world's biggest and busiest retail malls along with a complete entertainment package. Moreover, tourists can enjoy free entry to shopping and food courts in Dubai mall. In hot months, the weather outside is scorching while visiting Dubai, so you and your children can cool off by ice skating (an amazing area) located in the mall.
Best activities for Families in Dubai Mall
There are four splendid flours with almost 1200 shops covering all categories of things required for human use. Moreover, tourists can find there different entertaining points like the Dubai Ice skating ring, Ekart Zabeel, the human waterfall, The Burj Khalifa, and the Dubai fountain show. The mall is full of Dubai attractions for families including the food court and beverages.
You will find it more than simply a mall as it covers a massive 5.9 million square foot shopping complex. The mall is designed with 200 food points and 1200 stores making it Dubai's largest indoor venue. Now, I am going to discuss the 10 best things for kids to do in the Dubai Mall.
Kidzania in the Dubai Mall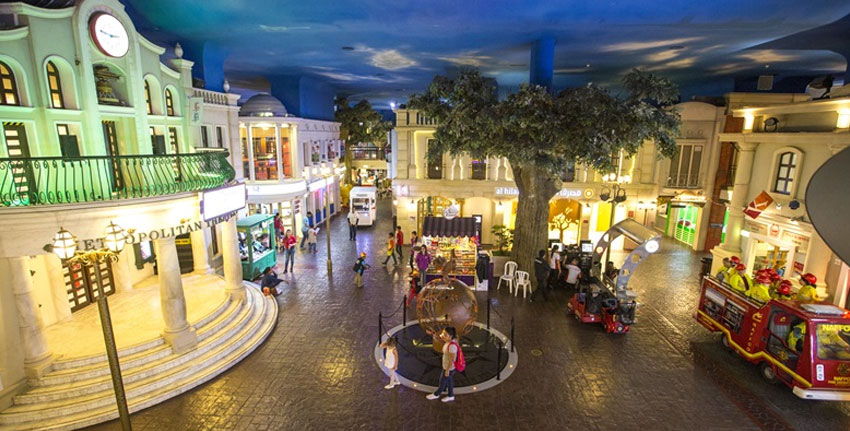 The reason why the children admire visiting Dubai shopping malls is that kids have a lot of entertaining things there to do. Kidzania is also an entertaining activity for children. The thing that makes it full of fun is the rule of kids on the Kidzania land.
They become rulers and are able to build the essential skills of the real world. The incredible Kidzania has 80 role-playing sports for children to love and over 60 city eateries. Kidzania is a theme park designed for kids to seek learning through play and turn into a miniature city.
Emaar Entertainment first presented this region to acclaim the "adaptive learning" of the children as Kidzania Dubai Mall. The amazing real-life city lies in 7000-meter squares and is created exclusively for children of age 4 to 12 years old. Moreover, this Kidzania branch is so perfect that it is designed after other Kidzania branches that you can find in the world.
You can find the location of Kidzania Dubai learning center conveniently at the cinema end of the mall. The kids gain the skills to polish themselves from role-playing to critical thinking by participating in different activities. Moreover, they can acquire life skills while learning about employment and money that can't be learned in the classroom.
Dubai Aquarium and Underwater Zoo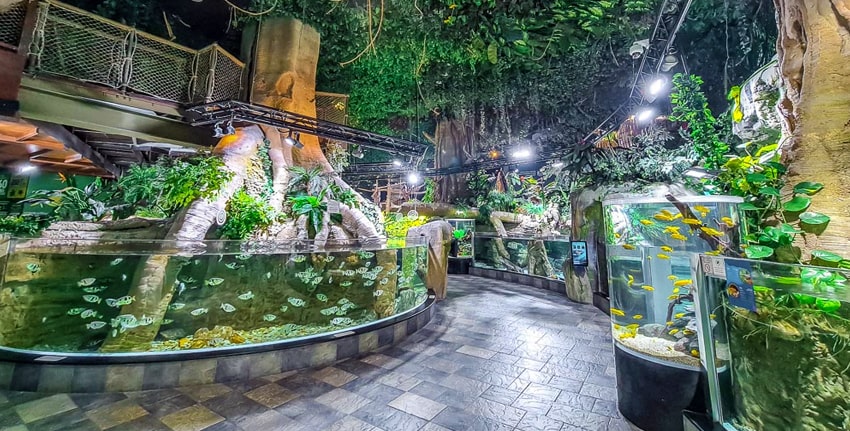 Waooo.. Amazingly you can have the underwater zoo in the Dubai mall! Have you ever seen such a beautiful zoo along with magnificent scenarios that can never be forgotten? What tourists will see in the zoo is all about the aquatic life with over 140 different species.
If you are going to search out the largest indoor aquarium, your quest will end in the Dubai mall. Dubai aquarium has the capability to store 10 million liters of water in it and showcase the wonders of oceanic life. There are over 400 sharks and rays that can easily live in the huge tank of 10 million liters of water. 
Tourists must not be misguided while knowing about Rays as they belong to the superorder Batoidea of cartilaginous fishes. When talking about the underwater zoo I would like to tell you that there are amazing oceanic creatures in it.
Some of the oceanic creatures include Otters, Pirnaha, Giant Spider Crabs, Lion Fish, Sea horses, water rats, Garden Eels, Paddle Fish, archer fish, Cichlids, and many more. But in the case of the aquarium, you can also see sand tiger sharks, Giant Groupers, and numerous other aquatic species. Also, there are almost 33k marine animals in the Dubai Aquarium and water zoo.
Dubai Ice Skating Rink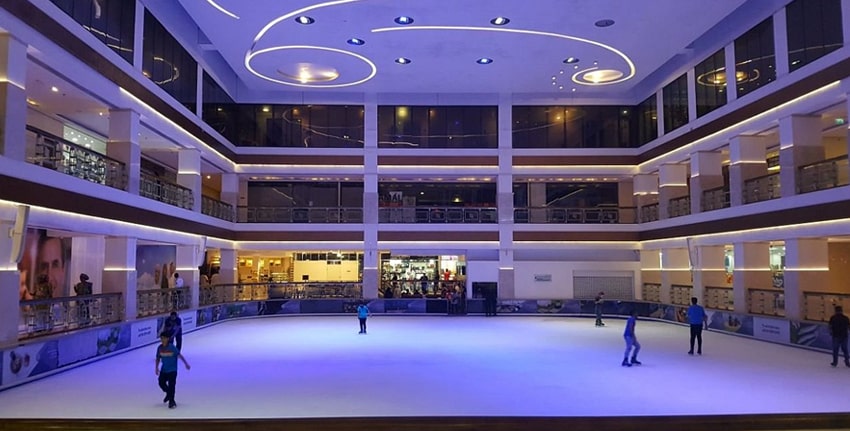 Do you ever see a huge Olympic skating rink in the shopping mall? If not, now you can see it and experience it in the Dubai shopping mall. Since the temperature of Dubai remains hot in most months you can find yourself cool and calm in this full-sized Olympic ice skating ring.
The Dubai Ice skating rink is open to all ages and is the best way to learn ice skating. If you are living in the area of Downtown Dubai or in nearby places you would clearly know about the popularity of the Dubai Ice skating Rink.
Those who love skating can have a tonne of fun while gliding over the amazing Olympic-sized Dubai Ice Rink. If you don't have any knowledge about ice skating, there is no need to be worried now. The instructors will guide you completely on how to enjoy an ice skating adventure.
So if you are a beginner you will have all the perfect equipment and instructors in your hand. You will find a vibrant location for both kids and youngsters and skating fun in Dubai Skating Rink. So don't miss a thrilling adventure on the ice while visiting the Dubai Mall.
Play DXB (formerly VR Park)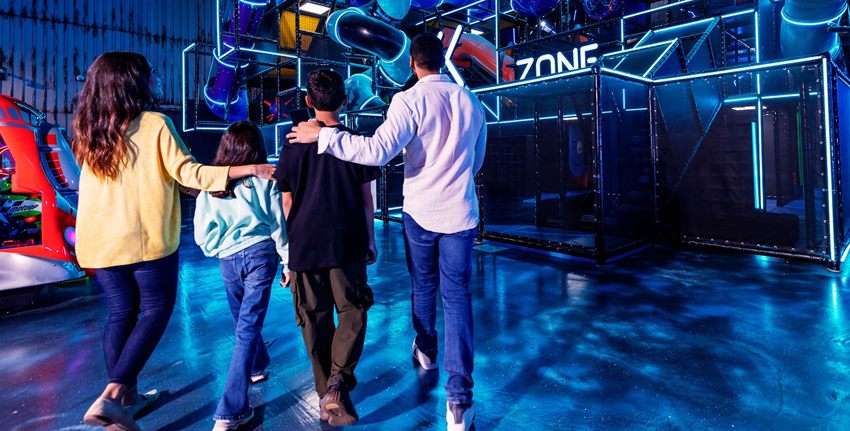 Get a complete family entertainment package with cutting-edge VR experiences, amazing video games, soft play for kids, enjoyable rides, and a roller coaster. There are numerous virtual reality experiences for the tourist to explore with a huge range of motion rides.
That's why Play DXB in Dubai mall is known to be the largest VR theme park worldwide. Here you will find a popular Dubai Drone that will engage you in the golden age of gaming. Moreover, you will also have a virtual roller coaster ride to take a glimpse at the past famous locations located in Dubai. Keep in mind that the roller coaster ride has some age restrictions as well as height restrictions for tourists.
Normally the age for kids should be more than 8 years and youngsters can definitely join. If you have not explored such an amazing thing, don't be confused because everyone may find something here to enjoy. Children who love to play shooting games and simulators have an inflatable playground to join without any difficulty.
Moreover, there would be explicit themes for kids and teenagers. Join play DXB at Dubai Mall to enjoy eye-catching activities that challenge reality. Tourists would have around 30 thrilling VR sensations housed in the amazing indoor attraction of Dubai.
Ekart Zabeel in Dubai Mall
Do you want to have any competition with your friends, family members, or colleagues? If yes, you will find the Ekart Zabeel in Dubai Mall to be the perfect location. Those who are thrill seekers will find a thrilling adventure at Ekart Zabeel located on the top of Dubai Zabeel Mall.
What you will do at the Ekart Zabeel is drive an eco-friendly electric kart over the Burj Khalifa while competing over the clock. Moreover, you have to compete in the race against other drivers for AED 75 only per session on the amazing open-air course.
Don't think that there is only a high-speed action competition for the tourist at Ekart Zabeel, they will find delicious cuisine and refreshments at the food truck located at that place. Also, the tourist can have eight different service guest desks to ask questions or address any concerns they might have.
The Ekart Zabeel is considered to be the best indoor karting activity at the Dubai Zabeel Mall. The opening times for the activity for tourist is from 10:00 AM to 11: PM from Monday to Thursday. But if you want to visit the place on Friday or Sunday the timing will change from 10:00 AM to 12:00 AM.
The Dubai Fountain Show and the Burj Khalifa Show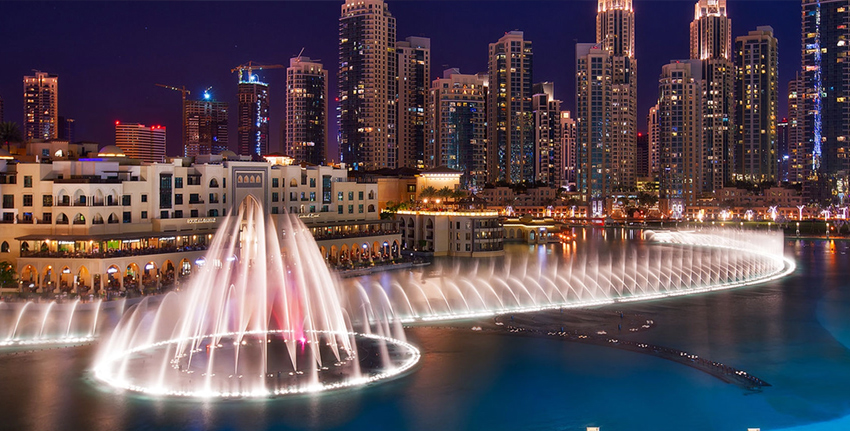 Don't skip the opportunity to have the best free activity with your children to see the eye-catching scenes of the Dubai fountain show dance along with the illuminated Burj Khalifa at night. If the kids are seeing the show for the very first time they will surely get mesmerized and love to visit Dubai mall again and again.
The world's largest synchronized fountain system which is not specifically located in the Dubai mall is the Dubai Fountain. Get the splendid view of the dancing fountain from the decks in the Dubai Mall and capture the memories on your smartphone.
You must be clever and think accordingly if you wish to escape the throng. Make sure to avoid attempting to view the spectacular scenes from the main entrance point opposite Souk ul Bahar as it will be a rush area. Moreover, kids and youngsters will find it to be the most packed and crowded location.
To have a comfy position to enjoy the sparkling Burj Khalifa light show give yourself almost 20 minutes to find it. Also, tourists can have another way to enjoy the Dubai Fountain show by taking a ride on Abra (traditional boat) to Burj lake. It will help you to explore the close-up view of the fountain.
Added to that if you are looking for the perfect timing to watch the dubai fountain show you must reached around 5pm
The Burj Khalifa Tower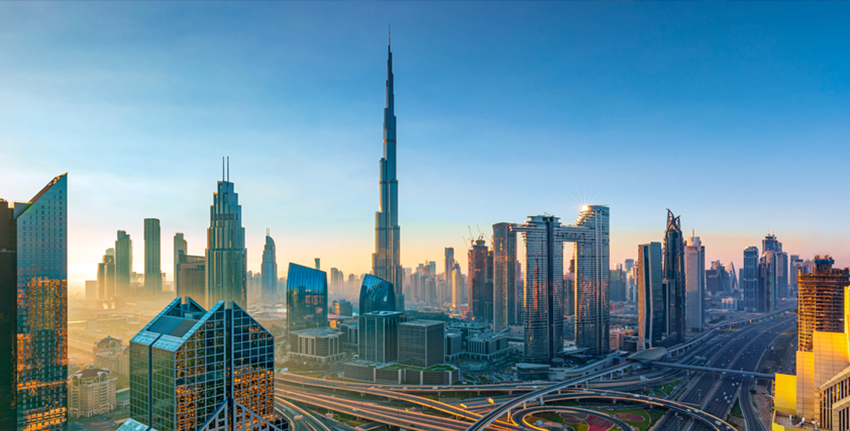 Those who love Dubai must be acknowledged the fact that the Burj Khalifa is ranked as one of the top tourist attractions. It is regarded as the world's tallest building structure providing mesmerizing beauty to visitors. The best thing about this tallest building is that it is conveniently attached to the Dubai mall. You can only have breathtaking views of the building if you are at the top of the mall.
To engage yourself in such Dubai mall activities, I strongly advise making reservations in advance for a tour of Dubai Mall. You will be undoubtedly treated to incredible city views once you have reached the summit.
These fascinating views will be long-lasting as far as the eye can view across the bustling urban core and outside the Arabian Gulf and the desert. You may have astonishing views of the building at night. Tourists will have unique offerings and ticketing possibilities if they want to see the tallest building at night.
The Burj Khalifa view is one of the best Dubai mall activities for tourists to view the iconic skyscraper building of the world. Moreover, children of all ages can view it from the mall but the child with age 3 years or below 3 years are free to visit.
Trampo Extreme in Dubai Mall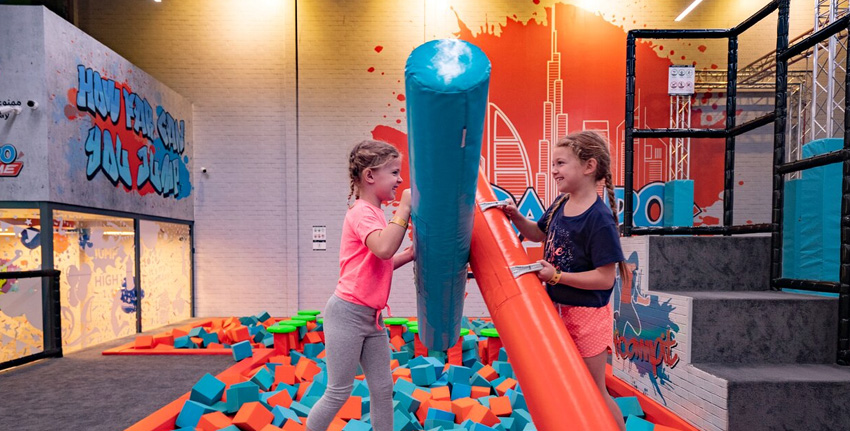 One of the best Dubai mall activities is Trampo Extreme where the children can burn some of their energy. The Trampo extreme is an incredible indoor trampoline park for both children and adults to jump, flip, and practice their gymnastic skills.
Trampo extreme is a family entertainment park where you may have fun playing, climbing, or exploring the cave. While talking about the Trampo Extreme Dubai mall I am pleased to tell you that tourists can now have a new trampoline park within the Dubai mall.
The newly constructed trampoline park is situated on the mall's second floor closer to the cinema. There are eight different plays full of attraction for kids and youngsters to jump into ball polls and challenging puzzles. However, bouncers must be at least 3 years old and children with age 3 to 6 years old must have a guardian present.
Dubai Dino at Dubai Mall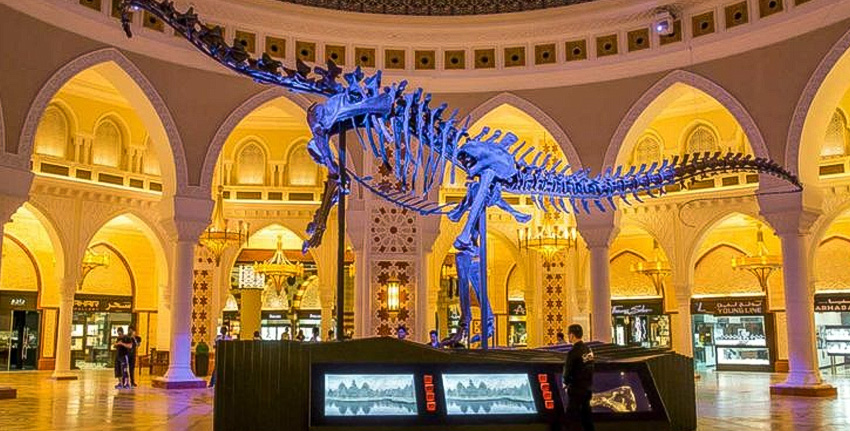 The Dubai Dino is the famous attraction of the Dubai mall making it unique from other shopping malls of the world. The Dubai Dino basically contains the long Dinosaur of almost 7.6 meters in height and 24.4 meters in length that dates back 155 million years.
One of the coolest things included in the Dubai mall activities for all aspiring zoologists is to have a view of such a giant Dinosaur. Since paleontologists can't quit gushing about the dinosaurs and their exploits they can find a good piece of information here to explore more about them.
Also, children will entertain by the constant exhibit of the skeleton that is 155 million years ago. The parts of this ancient dinosaur came from the Diplodocus loungers (a kind of species of Dinosaur) that exist in the late Jurassic era.
The Dubai Dino at Dubai mall is distinguished by an infinite whip-like tail, a long, thin neck, and a short neck. The best thing for tourists to take into account about Dubai Dino is that it is one of the free mall activities.
Astonishing Human Waterfall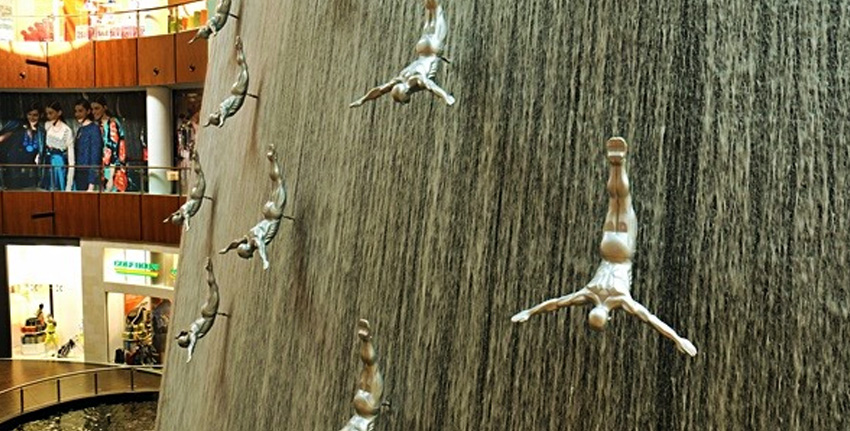 The forever beauty can hold into the eyes of visitors when they stand out in front of the human waterfall in Dubai mall. This is the coolest feeling for both kids and adults to discover this waterfall. People love to stand in front of the waterfall, admire it, and make memorable pictures there.
The waterfall has two enormous cylinder walls that have a diameter of 30 meters and 24 meters in height. It provides an absolutely magnificent indoor water sculpture for visitors. The reason why the waterfall is named the human waterfall is that it provides men with sculptures diving in it. Moreover, it is made in a circular shape and is a public artwork at Dubai mall.
Emirates A380 Simulator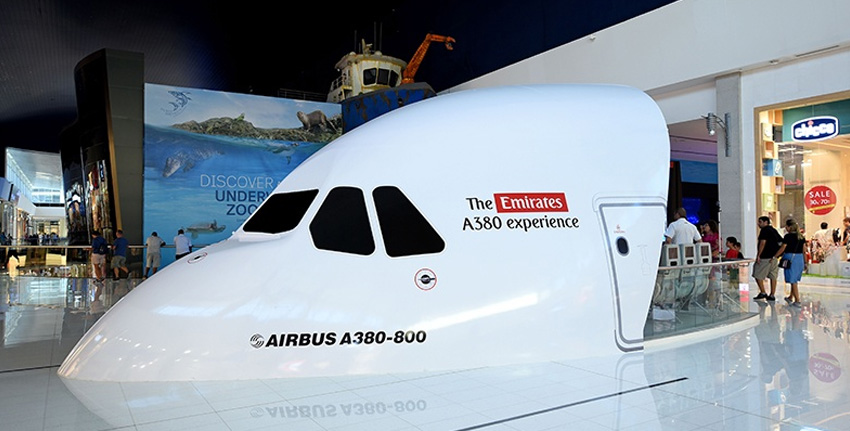 The Emirates aviation adventure at Dubai mall is likely to impress the tourist if they love to become a pilot or just want to take a fast flight simulation to have an adventure. You have to prepare yourself to experience the state of art at Emirates A380 Simulator at Dubai Mall.
This one is also located on the second floor of the mall and a complete guideline will be given by instructors to tourists. You just have to follow the instructions on how to land this colossal airplane at the 12 busiest airports in the world.
Hysteria – Extreme Haunted Attraction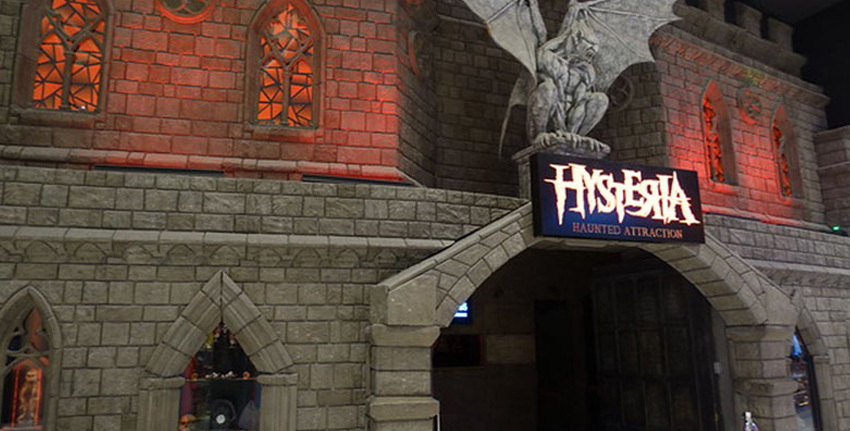 Besides all the entertaining attractions of the Dubai Mall, those who love to explore haunted places will not be disappointed in Dubai Mall activities. Yes, I am going to explain about Hysteria known as Dubai's extremely haunted attraction.
Visit hysteria to enjoy the excitement and jump scares of the horror category. Here you will explore the perfect entertainment through a horror movie but if you are a faint-hearted person I suggest you not visit hysteria.
This part of Dubai mall is only for those who are the most daring tourists, including multiple artfully crafted scares and hair-raising thrills. If you also want to have such a getup you can buy things at the nearby retail location. Moreover, don't take children with you as this adventure is a scary and terrific place to visit.
Family Entertainment Activities for Children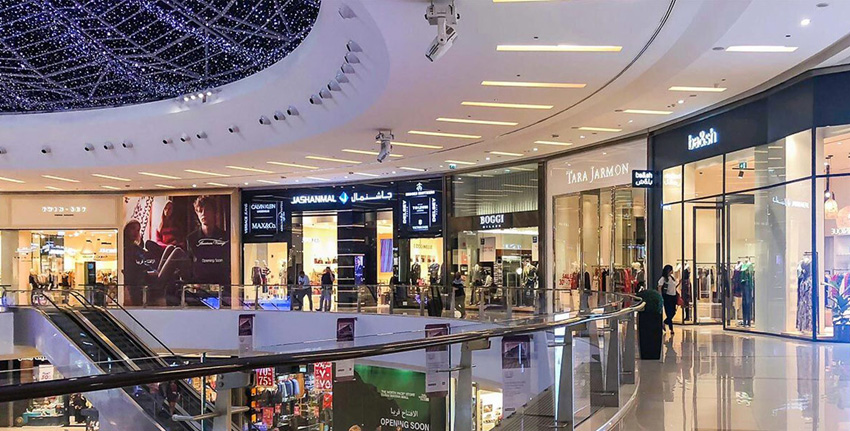 The Dubai Mall is a perfect place to amuse kids in the way they want and explore fascinating activities for them. The fun things that the children can do and are included in Dubai mall activities are visiting ziplining in the sub-zero temperature, having a look at the penguins closely, having amazing snowboarding lessons, discovering the magic planet, and many more.
In the case of families and adults, Dubai mall activities provide a huge fun with cinema and offer the tourists a unique cinematic experience. What you can see here all depends on your choice either a romantic movie, fighting or horror one.
The cinema is one of the largest and most famous cinemas in the world being constructed in the biggest shopping mall. Here you can enjoy any kind of movie experience including dine-in theaters, 4D movies, Display X, and opulent platinum suits.
Family Entertaining areas close to Dubai Mall
If you are planning to visit Dubai Mall, make some time to visit other entertaining areas close to the Dubai Mall. But this can be done if your tour is planned on a moderate day that is not so hot so that you can go to such a location on foot. These are the surrounding sites in Downtown Dubai, thanks to the area's superb walkability (but only in moderate weather). Don't miss to visit some wonderful things on your visit that are described below;
Souk Al Bahar: Souk Al Bahar Dubai is one of the ideal dining locations for family and friends to explore in Dubai. The Arabic phrase "Souk Al Bahar" indicates "Market of the Sailor." This is the classical souk building located next to the Dubai Mall and one can easily access it by crossing a short bridge. If someone wants to use the metro station to access Souk Al Bahar, they may choose the Burj Khalifa Metro Station. Tourists may find here the most of eateries as well as a few tourist-priced craft stores.
Dubai Opera: Dubai opera is the brilliant gem of the Opera district located in Downtown Dubai and is the vibrant center of Dubai for Culture and Arts. For those who want perfect entertainment venues in Dubai must choose the gorgeous new opera house in Dubai. Here the tourist can have ice skating, comedy and classic concerts, and much other broad range of performances throughout the year. Dubai Opera is a unique 2000-seater multipurpose theater for performing artistic skills located in Downtown Dubai.
Burj Park: Burj Park by Emaar is a perfect amusement park located in front of the Burj Khalifa along with the Dubai fountain providing a mesmerizing view to visitors. This is a popular location to look at in Dubai providing a view of the tiny strip of green among the skyscrapers and a beautiful location of Burj Khalifa in the background. Visitors come to the park to provide themselves with a calming environment being free of daily life's tough routine.
Downtown Slide: The Downtown slide is a freestanding steel slide that is 19 meters long and has a seven-meter size difference. It is located on the Zabeel plaza and the opening timing are 4 PM to 1 AM. There is no restriction on age for using the Downtown slide as it is free to use for both adults and old people.
Dubai Fountain Water Experiences: The Dubai Fountain water experience is an extension of the Burj lake providing huge boating activities to tourists. Swan canoes, water cycles, and translucent kayaks are enjoyable for tourists to use. Feel a cool feeling by having a ride on the lake's ethereal waters and enjoy a relaxing trip on the enormous swan boats either with your family or friends.
Dining Options for Families in Dubai Mall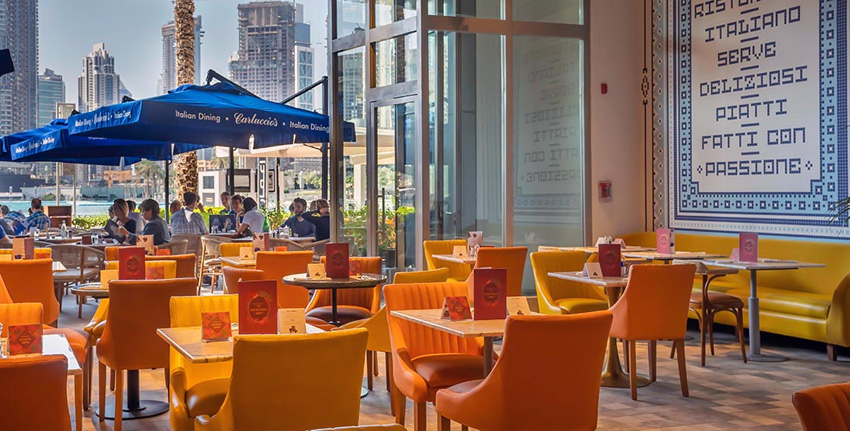 Get the best eatery spot in Dubai with picky kids during or after having amazing Dubai Mall activities. Since Dubai mall is full of activities for both adults and kids, you can get an energy boost by enjoying numerous international cuisines here. Also, the food court offers visitors amazing and delicious food items at a very reasonable price.
Those who plan their Dubai mall visit along with the Burj Khalifa have the exceptional option to utilize the food court located on the ground floor. The famous family restaurants that tourist love to visit in Dubai Mall are given below;
Tribes: You will have a fun, casual dining facility at Tribes restaurant located in Dubai Mall. Here tourists would have African Dishes with amazing delicious meat and African-inspired spices and sauces.
Social House: Social house is a wonderful restaurant in Dubai Mall providing tourists the flavored food overall the world. Moreover, while enjoying the food you can also have sight of the stunning views of the Dubai fountain.
The Cheesecake Factory: The excellent place for desert lovers is known to be the cheesecake factory providing them with 200 unique menu items and 50 delicious cheesecakes and desserts.
Black Tap: If you are one of those who indulge entirely in food, Dubai mall presents a black tap restaurant for you. Shake and burgers lovers can find their food here located on the lower ground floor of the mall.
Hurricane's Grill: Many tourists admire steak food, their quest is now at the end because they will find Hurricane's grill. It is one of the Australian family-style steak houses featuring South African and Portuguese flavors.
Important Things to keep in mind about Dubai Mall before a visit
If you want to visit Dubai mall on the weekends, I strongly recommend you not to choose like that. The reason is that the mall gets crazy busy on the weekends and you will not attain the fun you want. But if you don't have time rather than the weekend you or your kids may get separated from the family.
In such cases, have a strategy in your mind to handle the situation carefully. Nonetheless, this does not imply that Dubai is unsafe for tourists. Dubai is a highly secure city in UAE to visit, but there might become a terrific situation if a child is lost even for a short period of time.
If you are visiting Dubai with a newborn baby or toddler, you will easily find family-friendly amenities in the Dubai mall. Moreover, the mothers also find feeding rooms and family-sized dressing rooms. Discover everything about the mall but make sure to keep your personal luggage to be safe and secure.
Dress properly, discover the plethora of culinary offerings at the food courts, and use public transport (as it is cheaper). Also, make sure not to take any drugs or alcoholic beverages as they are strictly prohibited in the mall.
Summing Up!
To sum up, I will say that no other place in the world can replace the adventure of Dubai Shopping mall. The incredible Dubai Mall activities for kids and youngsters are just amazing. If you want to visit the mall via the metro station, the nearest metro station is the Burj Khalifa station.
Keep your smartphones charged and digital cameras activated to capture the eye-catching moment of your visit to Dubai Mall.
Frequently Asked Questions
Is it suitable to leave the child in Kidzania Dubai?
Yes, tourists can leave their children in the Kidzania station without paying twice. However, if someone leaves their kids and then comes back on the same day have to pay twice.
What is the actual depth of Dubai Aquarium and how much water it contains?
The actual depth of the aquarium is about 20 meters with a length of 51 meters. The aquarium tank is full of 10 million liters of water in it.
What is the duration of viewing the Dubai Fountain Show?
The starting time for the Dubai fountain show is 6:00 PM each day and lasts till 11:00 PM. Each show lasts for approximately 5 minutes.
What makes Dubai mall unique and different from all other malls in the world?
200 International dining cuisines with over 1200 outlets and a variety of entertainment and recreational activities for families make Dubai mall unique and different from others.
How many individuals can fit in the ice skating rink?
The Dubai ice skating rink provides 350 seating capacity for tourist with an expert ice skating instruction.