Downtown Dubai provides a fascinating water experience with rhythmic music and light spectacular views in Dubai fountain shows. The length of these fountains is 900 meters equal to approximately 2 football pitches.
The base of the fountains is in the Burj Lake of 30 acres which provides a variety of musical performances. The reason for its popularity is its distinct shape consisting of five circles with various diameters. Beautiful color projectors with super lights together produce a visual spectrum of over 1000 amazing water experiences.
Don't miss watching the spectacular views of dancing fountains with 6000 lights, classical Arabic music, and 22,000 gallons of water in the air.
The Dubai Fountain boardwalk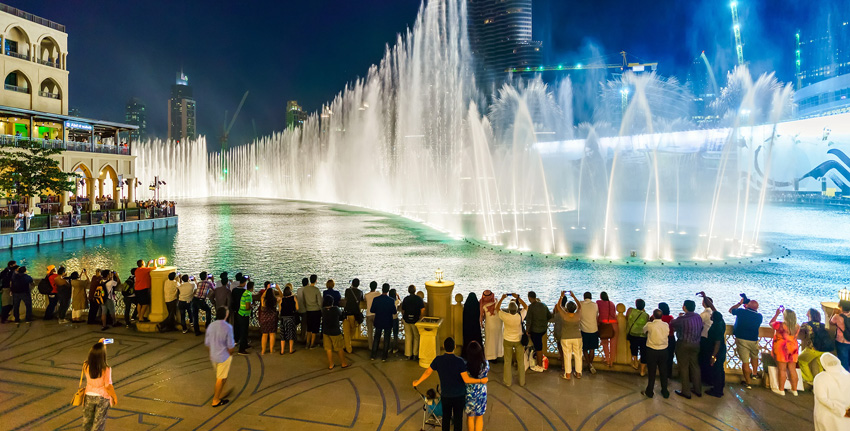 A new hovering platform of the Boardwalk is housed within Dubai's fountain, giving a new type of fun with water views. Tourists will get closer to the water performances than ever and offer a completely different point of view of the mesmerizing dance.
The start point of the Boardwalk Dubai fountain at either Burj Park or the waterfall promenade.
You can cruise the walk for over 272 meters with the nearest viewpoint of only 9 meters from the water fountains. But to enjoy such stunning scenes, you must have to purchase a ticket. Tourists should know that the ticketing point for a beautiful walk is "At the top" of Burj Khalifa.
Dancing Fountains water experiences on Burj Lake
More water experiences are available for tourists to explore if they are planning to visit Dubai with their families. Since the base of Dubai water shows lies in Burj Lake, you can enjoy various boating points at this lake. If you are visiting with your family and don't want to view performances overnight this will be the best option for you to choose.
Kids may have fun with children boating
Youngsters and old people can enjoy family boating.
Kayaking experiences provide unique experiences to visitors.
Get how a floating garden provides fun for water fountains.
New Birds Cove for Kids
No need to be worried if you are visiting with your kids. The unique place for kids to enjoy is "The New Birds Cove". The children of age 3 years old or older, here have the option to ride on the pedal-shaped boat or in a small motorized boat.
Moreover, they may also have motorized ducks or pedal flamingos with majestic views of a floating garden. Don't be anxious about your child's protection as every safety measure will be taken and they will be watched over by donning life jackets.
Paddle Swan Boats for Adults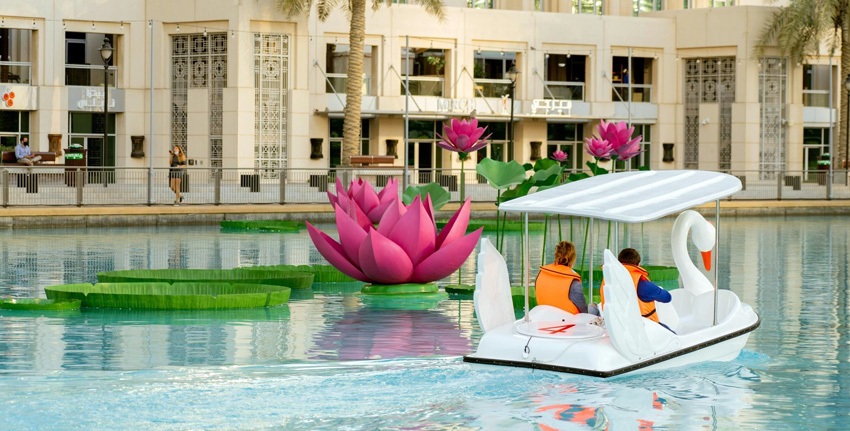 Children more than 12 years old or youngsters, will have a paddle swan boat to equally enjoy the dancing shows. If you want a family swan boat, it is based on electrical equipment that must be derived by a pilot. A family of 3 kids with a pilot can easily adopt it.
The timings for experiencing the paddle swan boat are from 12:00 PM to 9:00 PM daily. Furthermore, they are available for tourists every 30 minutes.
Additional Family Offerings
The additional family offerings include kayaking experiences that can be either transparent or colorful. Make sure if your child wants to have a kayaking experience should have aged up to 15 years. Those who are fitter riders can either choose from water bikes and kayaking experiences depending on their choice.
Since the dancing performances of Dubai cascades are located near Dubai Mall, I will suggest you explore Dubai Mall activities if you are visiting with your family.
Best viewing points for Fountain shows around Burj Lake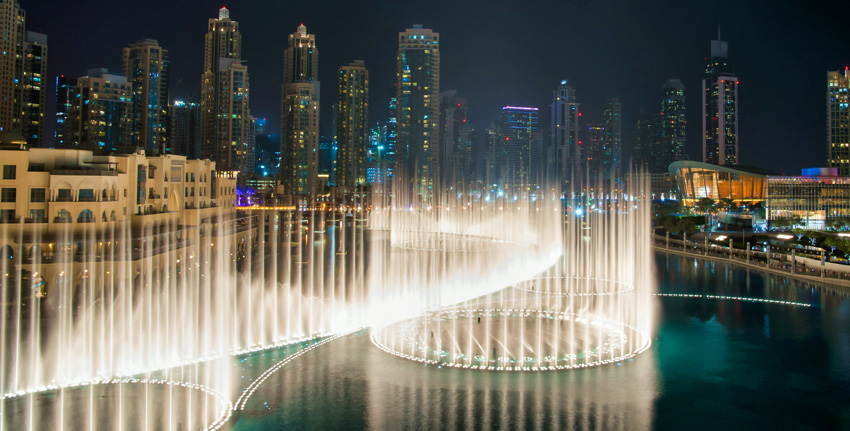 Get a view from the Dubai Fountain Lake ride
View water shows from the Viewing Platform on the top of the Burj Khalifa.
Explore beautiful views from the waterfront promenade and the Burj Park
Spectacular views from the Dubai Fountain Boardwalk.
Make sure to grab a front seat from the water fountains while making your reservations. The reason is that some hotels providing the Burj Khalifa views charge more for majestic lake views.
Expenditures for Lake water adventures
The average cost for swan boating is about 50 AED for 30 minutes
Kayaking adventures cost about 75 AED for 30 minutes
Water bike lovers need to pay only 50 AED for 30 minutes
40 AED for children's flamingo boat within 30 minutes
45 AED and 30 minutes for children's Duck boat
Final Words
In the hub of Downtown Dubai, you will find the Burj Lake and the Dubai Fountain Boardwalks. Tourists will find this place to be the centralized location of the city with a lot of city attractions.
Those who love to explore waterways may visit Palm Jumeirah for unique experiences. The Dubai water shows are just incomplete if one has not visited Dubai's dancing fountains with relaxing Arabic music.
Frequently Asked Questions
Why do visitors love to see the fountains of Dubai?
The fountains of Dubai provide fascinating water experiences to immerse in the beauty. The additional rhythmic Arabian music and stunning light experiences make it more worthwhile.
Is there a free ticket to view the fountain shows?
There is no charge for viewing the fountain's dance performances from the street level. But if someone prefers to take the best view from a viewing platform each person has a cost of 20 AED.
What price would a lake ride set you back?
If someone is interested in a lake ride, he has to pay 19.90 dollars to buy a ticket. Around 30 minutes are provided to enjoy a lake ride.
Where in Dubai are the greatest spots for light shows?
The timings for Burj khalifa light shows don't remain the same throughout the year. Currently, the specified day for light shows is Thursday, Friday, and Saturday only. The show runs 5 to 6 times, starting at 7:45 PM and continuing till 10:45 PM.
What are the best places for light shows in Dubai?
The best places for light shows in Dubai are given below;
Aquaventure waterpark
Dubai Spice Souk
The Global Village
The Dubai Mall
Bur Dubai Village
Dubai Gold Souk
Which taxi is famous for the lake ride of Dubai water shows?
The traditional "Abra" water taxi gives a captivating water show for 30 minutes.
Why do people love to see the waterfall fountains in Dubai?
The waterfall fountains in Dubai give a sensation of happiness with a relaxing mood and brings happiness and joy. The additional music and more viewpoints gives a soothing feel to the soul.