Do you ever visit the beautiful mountains of Al Hajar located in Ras Al Khaimah? Visiting Ras Al Khaimah to escape from the busy urban area is the best option for tourists. Forget Dubai City's activity behind and head to the lovely beach area to unwind.
All nature lovers and adventurers are welcome to visit the best places in Ras Al Khaimah with a full desert life just like Desert Safari . Although there are many tourist attractions, Jebel Jais is the best one for ziplining and climbing on its slopes.
Places to Visit in Ras Al Khaimah
The reason why tourists should go for a Ras Al Khaimah visit leads to the fact that it has major archaeological aspects in history. The genuine adventure one can have in the place includes old archaeological places, hiking, and sea adventures.
For more other adventures, you can look forward to zip-lining, glamping adventures, and many others. You should just go for the most wonderful moments of your life now. I will cover all the amazing places of Ras Al Khaimah, new attractions, dining areas, and hotels near the place.
Ras Al Khaimah – 6th Largest Emirate of the UAE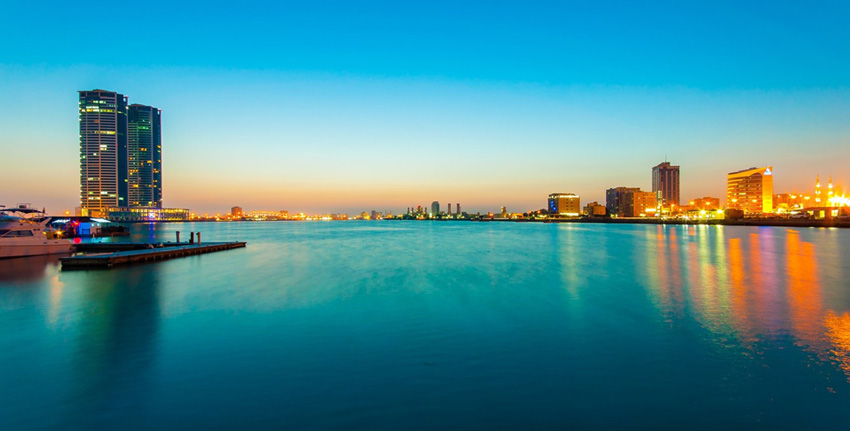 The United Arab Emirates has seven incredible emirates and Ras Al Khaimah is the 6th wonderful Emirate with a lot of places to visit in it. The emirate is situated on the Persian Gulf and raises the Hajar Mountain from the coastline.
A few of the natural features that may be found there include ocean, desert terrain, and mountain ranges. That is why this region is becoming the best adventurous place for tourists.
Although Dubai is also famous for adventure in many activities like Jet Ski , RAK also has many things to do and explore. What I have discovered amazingly in RAJ includes the Jebel Jais, Hiking, Climbing, Ziplining, and Glamping.
Places that you will visit there include Pearl Diving form, Ras Al Khaimah National Museum, Ghost Village, and Dayyah Fort.
Self- Drive Options to reach RAK by road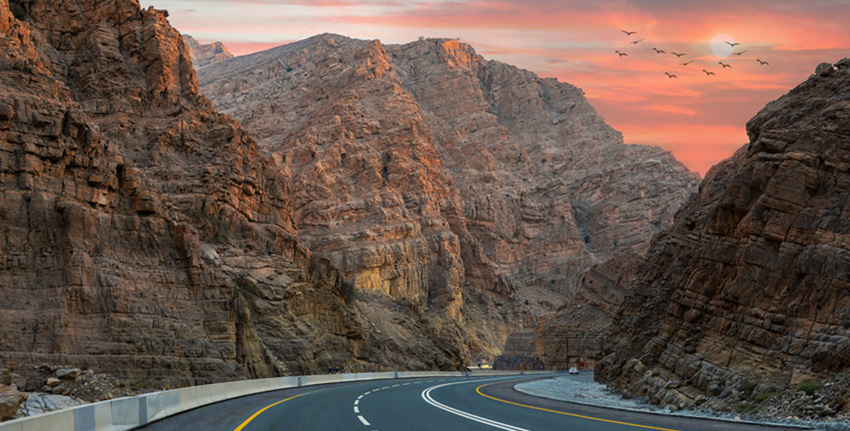 You can go to Ras Al Khaimah using some of the methods listed beneath;
Hire a car to get there or decide on the autonomous driving route. If you want to choose off-roading in the desert, there is no need for a 4 x 4 option. All roads and highways to reach the destination are paved and well-kept.
There are three major roads to follow that become the main connection from Dubai to RAK. One is Sheikh Zayed Road, E311 Road, and E361 Road. Use Google Maps to find your destination in the best way without forgetting the path.
Those who want to drive on less-traffic roads should choose E611 to see the camel spotting there. By approaching your destination you will see the big sand dunes turning from brown to stunning scarlet hue. By chance, your mouth will speak up the words… Wooow What a beauty!
How to reach RAK by means of Public Transport?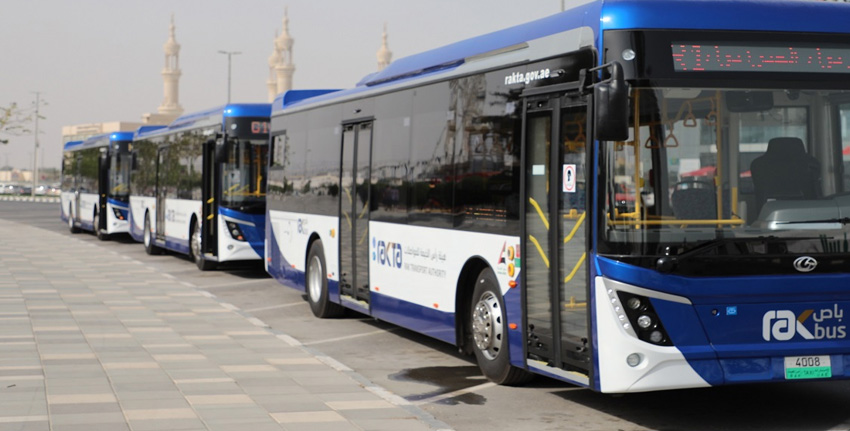 If you don't want to reach your destination by self-drive option or renting a car you may go by taxi or use the public transport system
People who prefer to enjoy all outdoor attractions at RAK by means of a taxi, will pay a rent of AED 250 to AED 300.
If you are residing in Dubai and want to reach RAK by means of public transport, the Al Hamra Bus service is available to you. The bus stands at the Union bus station and drops you at RAK Al Hamra Bus station. From here, you will take a taxi or any local bus service to reach your destination.
By using public transport each passenger has to pay only AED 27 whether he is traveling from Dubai to RAK or RAK to Dubai.
Save your budget by choosing taxis while traveling inside the Emirate.
Top Places to Visit in Ras Al Khaimah – Prominent Outdoor Destinations
RAK refers to Ras Al Khaimah and gives a wide choice of sites and activities to tourists along its 65 km coastline. The top attractions include an extensive desert region, the Al Hajar mountain range that runs the length of the Emirates.
If you are one of those who love outdoor attractions must visit the famous places of RAK I am going to discuss below;
Best RAK Outdoor Activities for Thrill Seekers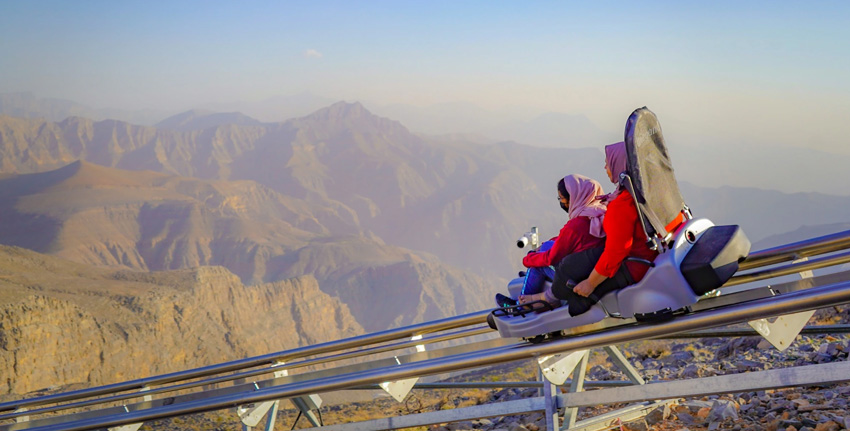 Let's have a look at the popular outdoor attractions for tourism in Ras Al Khaimah just like the activities of the Hatta Oman Tour . These attractions will guide you to decide what things you want to do on your RAK Tour.
Jebel Jais Mountainscapes – Cloud Piercing Adventures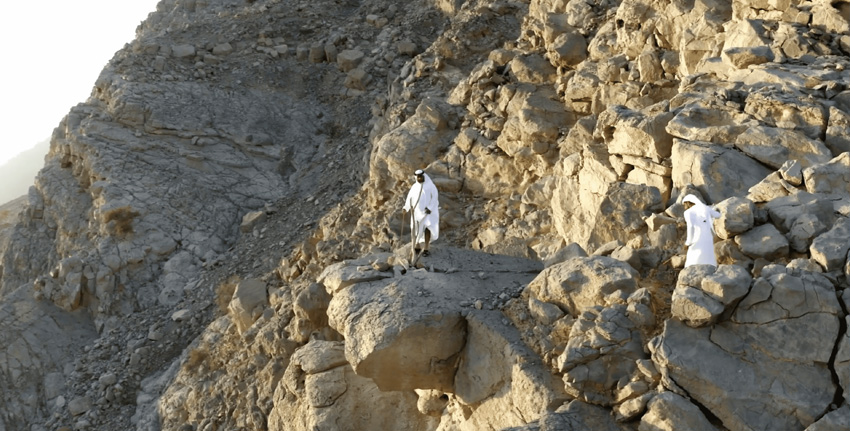 The best-ever cloud-piercing adventure that I enjoyed at the RAK is to have adrenaline pumping at Jebel Jais. I enjoyed traveling to the UAE's highest mountain peak, which rises to a vertical height of 1934 meters (6345 feet).
This place is considered among the top tourist attractions in Ras Al Khaimah and you will embark on an unparalleled adventure. Moreover, you can have amazing activities on Jebel Means Mountain by hiking on them.
The Jais Adventure Center has a lot of activities for tourists to do in it. You may slide down a winding mountain track, or zipline from stage to stage. Moreover, you may test your balance on the hanging ropes, climb up the mountain peak and feel the sky.
The world's largest zipline will allow you to fly like a bird. I will suggest you go to one of the seven observation areas at Jais Observation Deck Park once you reach the summit. This observation deck will give you breathtaking views of the Ras Al Khaimah and the magnificent Al Hajar Mountains.
Climb Over the Undulating Rocks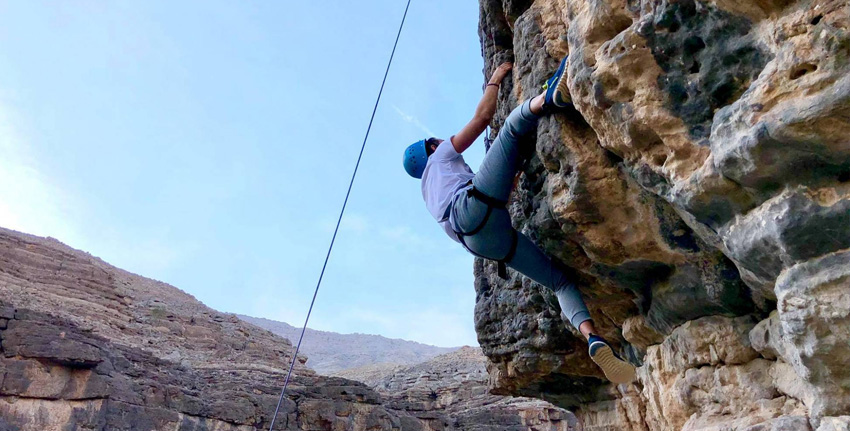 Those who are thrill seekers for Rock climbing will find undulating rocks in the Al Hajar Mountains. You will get an exhilarating experience for brave hearts. Therefore, if you are a faint-hearted person or scared of heights, this attraction is not for you.
If you lack the appropriate gear, don't panic; recreational activities can provide you with all you need. The climbing clubs are also created for tourists to completely enjoy the amazing places in Ras Al Khaimah. Another type of enjoyment will take you to lead climbing as well as recreational climbing.
The safety equipment is firmly affixed to the mountain safety, you just have to start your journey.
Enjoy hiking Trails at Jebel Jais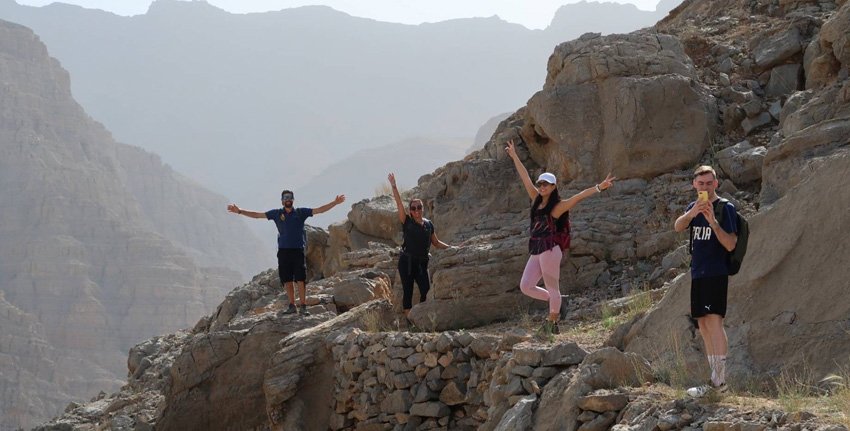 Moving towards the mountains for a one-kilometer hiking track winds through an adrenaline-pumping journey. Go for sliding and climb up stairs, platforms, and gravity-defying zip cables. A day for hiking at the Jebel Jais is the best choice if someone is not interested in action-packed adventures.
The great thing is that there are six recognized hiking trails. Each trial ranges from kid-friendly strolls to challenging excursions. Hiking in the mountains is an amazing adventure to do but it is advised to take water with you and must take a companion.
Do Overnight Camping and BBQ on the Jais Mountain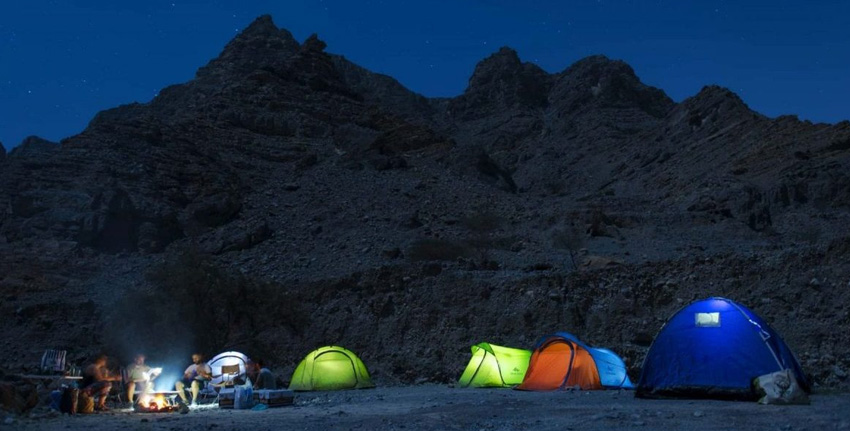 Most people search for amazing places for night camping. Well, this will be a wonderful adventure if someone goes Mountain camping. No doubt, Ras Al Khaimah is famous for its beautiful camping spot, but arranging a camp for your loved one is really fantastic.
You can arrange a BBQ dinner as well as some music to spend the night under the sky of full stars. There is no rent if someone has his own tent in the desert or on the Jebel Jais. Also, some public beaches allow tourists to do their own camping in their areas.
Do Glamping – the perfect getaway for friends and families
One of the best glamping resorts is open for tourists in RAK. The cloud7 Camp Jebel Jais will have 30 cabins with breathtaking mountain views. Furthermore, tourists will also have access to some of Ras Al Khaimah's adrenaline sports.
The first and foremost Bear Grylls Explorer Camp in the world is located on the Jebel Jais. The explorer's camp will allow you to embrace your inner bear grylls and gain mountain skills in the region.
You can have loft beds as well as separate private bathrooms in their cabins at their camping location that resemble shipping containers.
Another that I found amazing in the cabin is the presence of a Barbecue grill and an outdoor table. You have the option to cook your own food or book an order from the nearby hotel. People also go glamping over the long beaches that offer 300 meters of beach.
This is the best way to sand glamping as well as a variety of luxurious tent alternatives. Moreover, people can also have fun with a lot of water activities as there is a beautiful pool and poolside bar for tourists.
Discover the Natural Beauty of RAK
Besides the places to visit in Al Khaimah, the natural beauty of the place is worth seeing for tourists. Let us explore several options that will force you to admire the natural beauty of Ras Al Khaimah.
Paddle through the Mangroves and Relax on the Water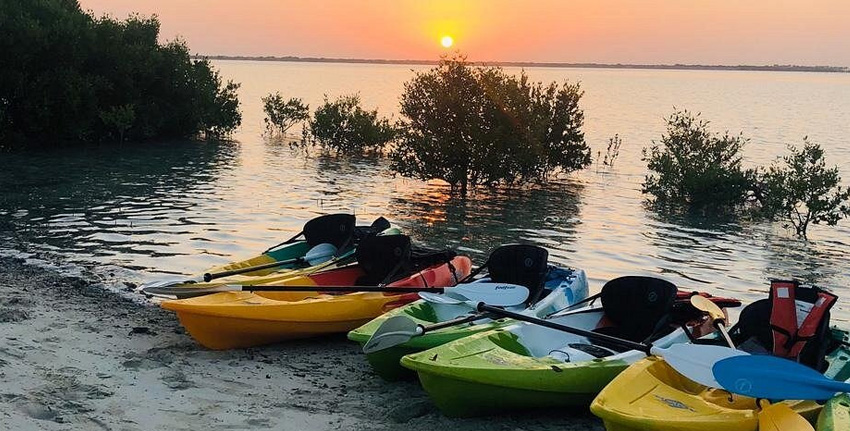 Have you ever done kayak paddling through the mangroves? Many people don't know about Mangroves but no issue I will here give a brief review about the mangroves.
Mangroves are actually shrubs that can withstand seawater and kayaking through them is common to relax in RAK.
You have to get on the kayak and do paddling through such mangroves. These mangroves will mainly cluster near the corniche and twist from the beach into the inner areas of the inner city. You will find the mangroves so peaceful and the best method to discover the salt-loving mangrove plants is to board a kayak.
Scuba Diving at Al Jazeera Diving & Swimming Center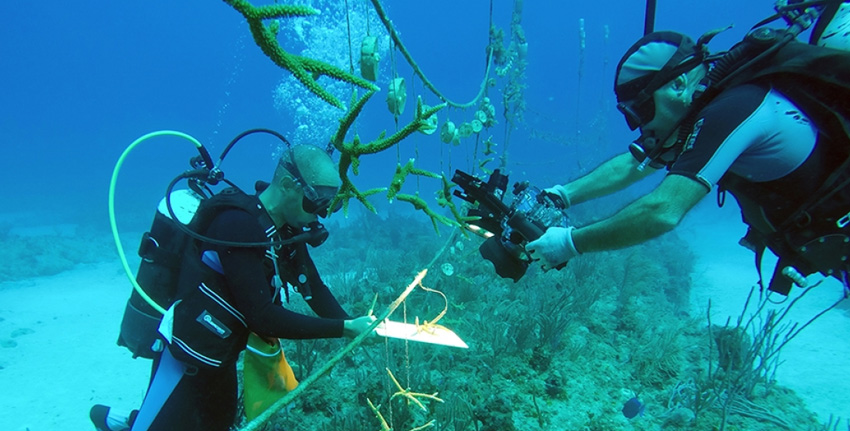 The best places for scuba and snorkeling are found at Al Jazeera Diving and Swimming Center. Scuba divers can visit almost 20 wrecks there that are located off the coast. The Al Jazeera Diving and Swimming Center is the only Padi dive center for tourists with a dive certification.
They provide fishing trips, diving adventures, and scuba diving lessons. One of the most beautiful underwater sights you can experience at this place.
Stunning Horse Riding Experience – Explore Emirati Culture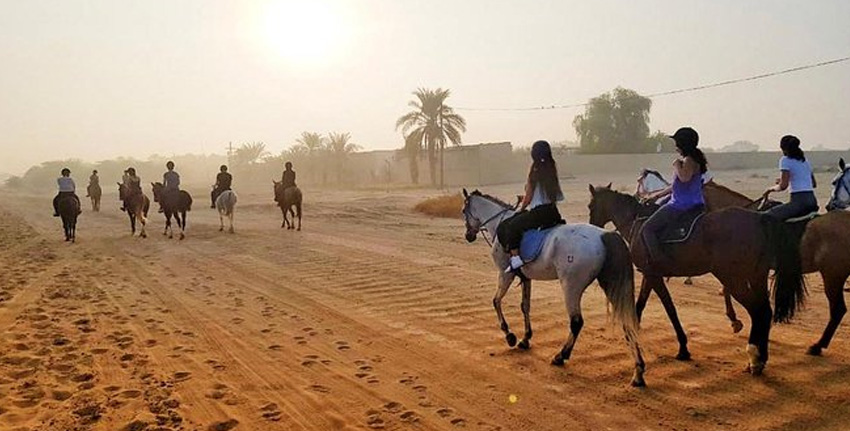 To explore the Emirati Culture, Arabian horses are the best source for horse riding. Those who love to view Bedouin life will know that their riding prowess is responsible for the generation of RAK's adoration of the Arab horse.
The Ritz Carlton resort only offers rides on beautiful Arabian Horses into the desert. You can explore more options like taking lessons, leisure strolls around the strolls, and galloping across the sand.
Camel Racing – A Nomadic Bedouin Tradition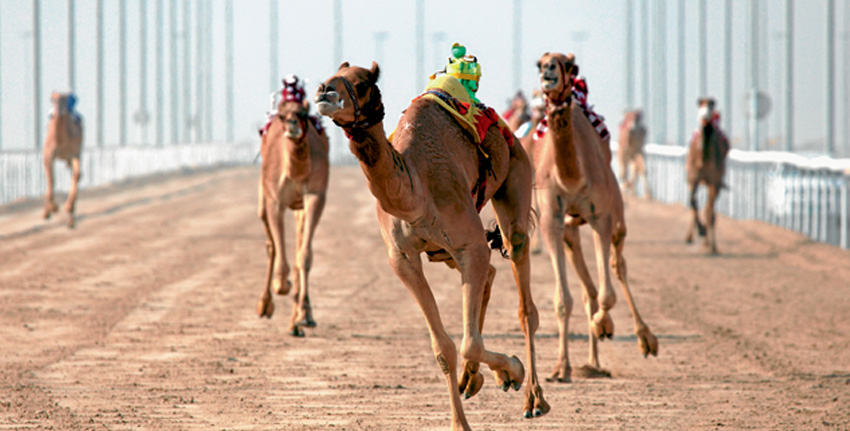 Camels are known to be the best symbol for exploring desert life. It is impossible for anyone who is going to explore desert life and skip camel racing. This allows tourists to get stunning desert views while riding on the camels.
Camel riding is common but racing is done mainly at RAK. The time slots for races in winter start on Friday morning between 6:30 AM to 9:30 PM at the camel racing tracks. Be in time to take part in camel racing and enjoy the incredible fun there.
Pearl Diving Farm – Rich History of Pearling in the UAE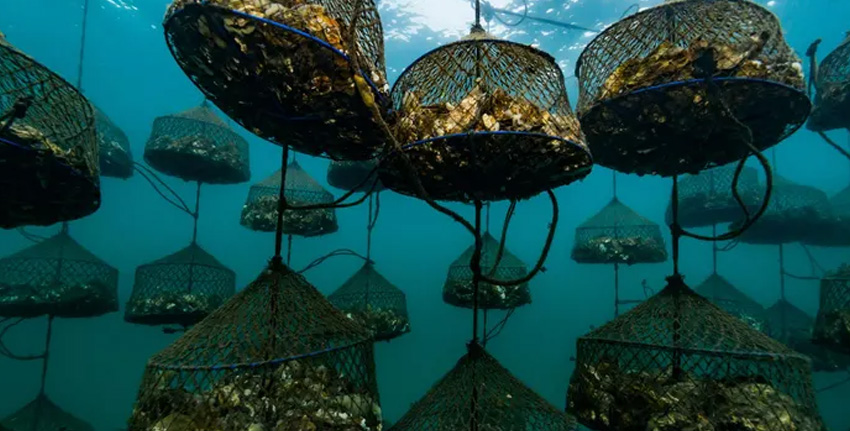 The Persian Gulf was famous for major pearl farming businesses, and the RAK was the central place of the Pearl Trade. If you want to enjoy a boat tour and explore the pearl farm at Suwaidi Pearls, you may explore the long history of pearling in the UAE.
The pearl diving farm is situated in the small village of Al Rams which is tucked away at the base of the magnificent Hajar Mountains.
National Museum – Impressive Collection of Archaeological Artefacts
The National Museum is the most impressive collection of archaeological collections and historic artifacts in the UAE. The national museum is the ideal location for you to acquire knowledge about the region's past.
This museum is located in an earlier fort that was the royal household's home. You will find the stock images in HD quality and additional royalty-free images, illustrations, and vectors in the Shutterstock library.
Visit Al Jazirat Al Hamra – Old Port Town remained Abandoned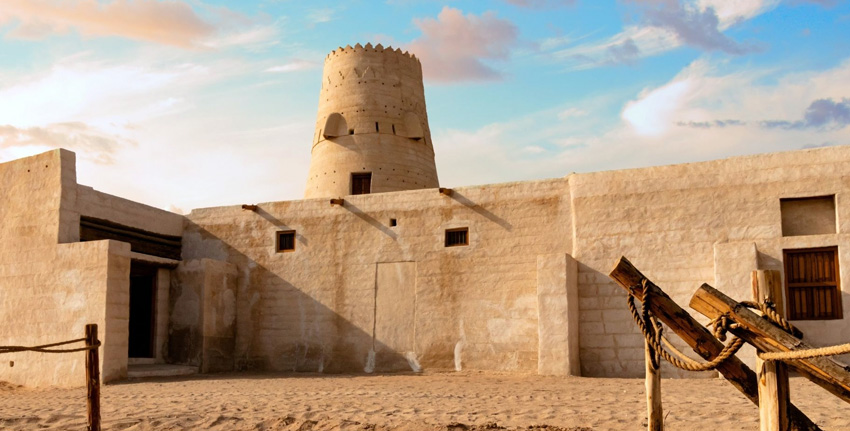 Since the residents of Al Jazirat Al Hama fled in 1968, no changes have been seen in the "Ghost Village". The settlement is considered to be haunted, especially for those who go there at midnight. The town is famous for thriving fishing and pearl diving for centuries.
Besides the fact that people find this place horrible, there are many things to explore in it. In ancient history, the village was said to be the home of 2000 people. The place is worth seeing to explore as many Hollywood movies have used the region as a filming location.
Dhayah Fort – 18th Century Fortification in RAK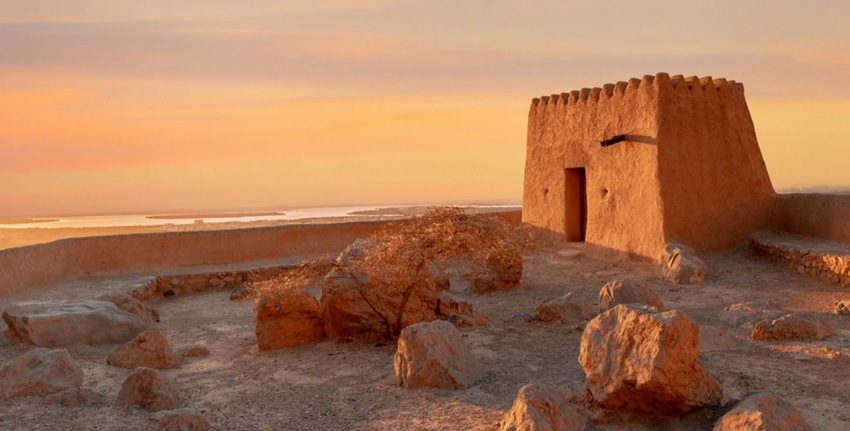 The ancient Dhayah Fort was established in the early 19th century and is situated in a strategic position as a defensive military tower for visitors. If you are seeking the highest hill port in the UAE, Dhayah Fort is waiting for you.
The fort is a historical landmark surrounded by palm trees and mountains. By standing on the summit of the fort, you will get the magnificent vistas of lust palm gardens, azure oceans, and soaring mountains.
Choose the best Dining Options in Ras Al Khaimah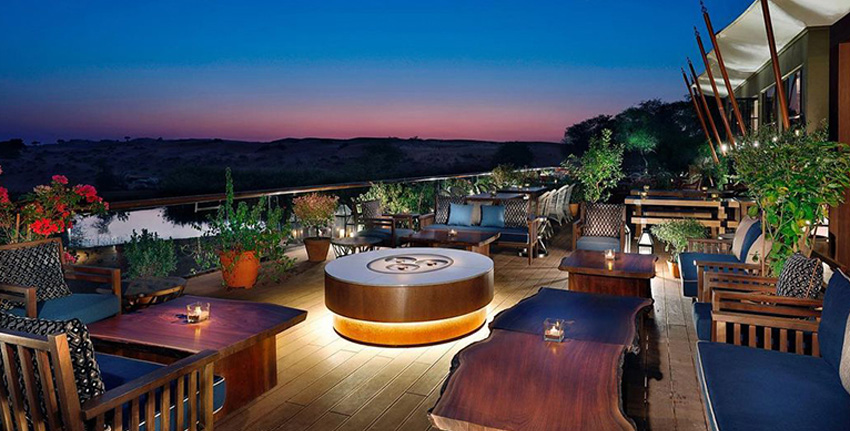 Tourists must want to know about the best dining places they can find in Al Khaimah. As far as I have observed there is a variety of Ras Al Khaimah Restaurants with delectable dishes for visitors.
Furthermore, you may also arrange a full-day Dubai City Tour, if you want to enjoy dining in Dubai. Below are some stunning locations with magnificent views and dining options;
Flamingo Beach – Hidden by Royal Hideaways and Towering Dunes
Those who want the best hangout for nature lovers and water enthusiasts will surely visit Flamingo Beach in Ras Al Khaimah.
This beach has a two-story complex building with over 10 restaurants where tourists can enjoy breakfast, lunch, and dinner. These 10 restaurants will provide you with everything you want to eat like seafood, burritos, burgers, sandwiches, and other food.
Al Hamra Marina & Yacht Club – Offers Dry and Wet Berthing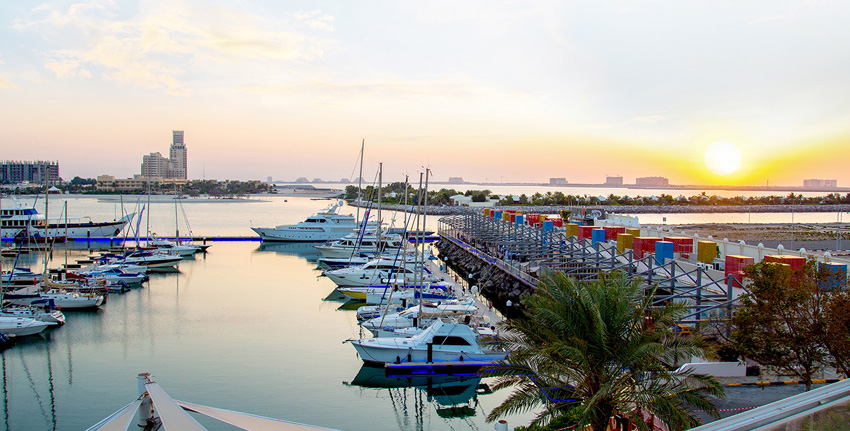 The perfect residential area with the most vibrant waterfront gives a lot of restaurants for visitors. You can get there everything ranging from fish categories to coffee, chips, and international cuisine. In order to relax and watch the sunset, the Al Hamra Marina & Yacht Club will be an excellent location for you.
To enjoy the stunning views and the vibrant atmosphere, amazing entertainment options, and delectable cuisine, Marina Social House is built in the Yacht Club. Visitors may also go for the Yacht Rental Dubai to have an extraordinary yacht experience in the United Arab Emirates.
Al Qawasim Corniche – Offers a LifeStyle Retreat for the Family
Al Qawasim Corniche is located in the heart of Al Khaimah with a beautiful mangroves-lined stretch of coastline. This provides tourists with a family-friendly retreat area to dine there. You will get many eateries, cafes, and sheesha winds.
Tourists are free to choose from local, Middle Eastern, and foreign cuisines. Ras Al Khaimah's visit will become more enjoyable by dining at the best place along with breathtaking views of nature.
Deirat Hali – Arabian Café at Ras Al Khaimah
The best café that serves genuine Arabic and Mediterranean food at RAK is the Deirat Hali. The lovely atmosphere and delicious cuisine will make you able to come again and again. People love to visit this place due to its mouthwatering dishes and tastes that please their palates.
Therefore, if you are looking for a vibrant ambiance atmosphere to have a fun time with your family for delicious food wraps, salads, and beverages go to Deirat Hali.
1484 Puro – Jais Adventure Center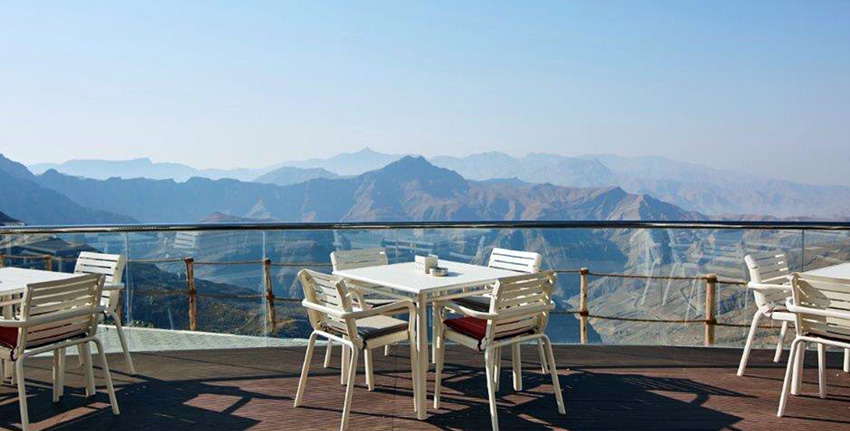 In order to take the most wonderful vantage point to take the panoramic views of the Jebel Jais, 1484 Puro will be the best option for you. The beauty of the restaurant lies in the modern interior and outdoor terrace with an independent dining concept.
This is an amazing place for lunch, sun-downers, and even a perfect meal in the evening. You'll feel at ease enjoying the meal's vibrant, fresh Mediterranean flavors thanks to the staff's kind friendliness.
Ritz Carlton – A five Star Resort with Luxurious Restaurants
Amazing desert highlights for restaurants and bars can only be found in Ritz Carlton, a five-star resort at Al Wadi. Desert dinners are always stunning and here visitors can choose between the two spacious and opulent locations. These opulent locations lead to the Sonara Camp and the traditional farmhouse restaurant.
Since the resort is located in the desert, it is impossible if you don't have camel sights while your journey to Ritz Carlton. Therefore, Gazelle, Oryx, and camel glimpses will be your reward for navigating the tight windy road to the hotel. If you want to eat outside you will observe the nearby fauna graze on the desert plants. The United Arab Emirates is famous to give the best desert resorts [Interlinking] to have amazing fun in the desert.
Spend a full day at RAK and Book a Day Tour
Most people don't prefer to have a long stay in the places they want to visit. Instead, they want to avail the option to visit more than one attraction while touring. For instance, if someone is going to Dubai Shopping Mall , he will try to cover each and every attraction in the mall.
For a day tour guide, you only need to book your one-day tour with the help of online bookings via a third-party vendor. Let us explore which places are best to see if you are going for one day at RAK.
Go for Desert Safari Tour and BBQ at RAK
Those who love to taste two things at one chance should choose the evening desert Safari Tour and BBQ dinner at Ras Al Khaimah. Although both deserts have amazing activities to do in them RAK Dunes are better to choose than Dubai Dunes.
Desert with Camel Rock and Fossil Rock
Going for a desert tour without choosing camel riding, dune bashing, and sand boarding is incomplete. Most people visit Ras Al Khaimah to explore desert life, then move to the mountain twists for hiking. After that, they take a plunge in Wadi Shawka.
Jebel Jais Ziplining
Unforgettable moments to catch on ziplining at Jebel Jais but take the online tickets to enjoy the moments.
Visit more places but choose some guide
It will be beneficial for tourists to visit more places either if they are going for one day. It may happen that each place in RAK cannot cover all aspects due to a shortage of time. However, I have a solution for you to choose a local guide cultural tour of the city that will easily take you to the iconic landmarks.
New Places to Places to Visit in Ras Al Khaimah
Each place has something new for tourists to explore so that they come to visit it again. Similarly, beyond all the places discussed in the post for tourists, there are some new attractions and places to view in it. There are more resorts and adventurous places to discover in RAK.
More gaming activities are waiting for tourists to discover and a mega project is introduced in the place name Al Marjan Island. Once you visit the place you will get many new things that you will not have seen before.
Famous Residential Hotels at Ras Al Khaimah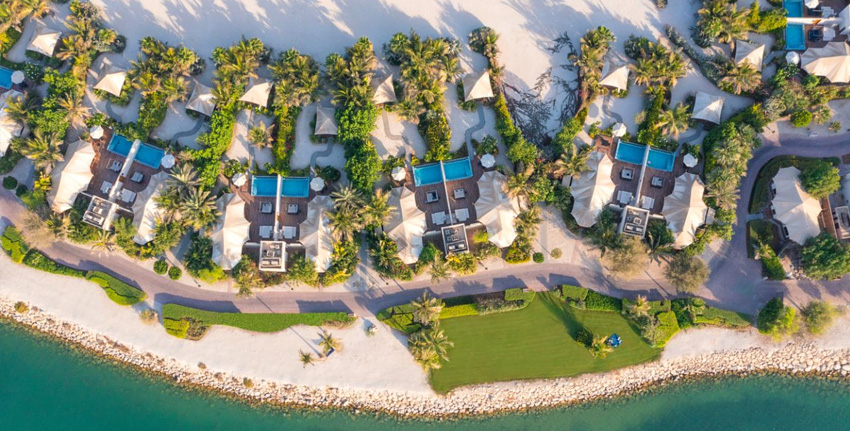 An important problem that tourists can face while visiting the best places at Ras Al Khaimah is choosing the hotel to stay. Many people go to visit the place for more than a day due to which they prefer to stay somewhere around the place.
Since the 6th Emirate has three types of places to visit that includes the beach areas, the desert, and the city location. Therefore, I have made research on all hotels around beaches, cities, and deserts to give ease to tourists.
Besides RAK, you may also move from Dubai to Abu Dhabi by Bus or book a ride to explore other emirates. But I will mention here that outdoor enthusiasts often travel to RAK in the north direction. 
The RAK resorts are eager to entice the bright lights of the golden city. You will have a more tranquil beach setting, mountain adventures line hiking, a way close to the thrills, and a desert experience. All these cannot be covered in a single day, so let's have a look at how abundant RAK is in providing hotels at the coastline, desert, and main city for tourists.
Best Residential Areas at RAK Desert – High-end luxurious landscape
The high-end luxurious landscape of RAK mainly refers to the Ritz Carlton located in the Al Wadi Desert. You will enjoy tent cottages with a separate pool and access to a variety of hidden natural adventures.
Those who don't have a tight budget and can openly spend on the amazing attractions must go for a magical overnight stay in the desert under the bright stars.
Best Residential Areas in the City Center of RAK
Since tourists also want to see attractions in the city they must approach the hotels in the city center of Ras Al Khaimah. If you want to save your money, it will be a good option to stay in the city. I have suggestions for you that can be helpful while staying in the city center of Ras Al Khaimah.
Places to Visit in Ras Al Khaimah DoubleTree Hotel – Located at only one hour's distance from Dubai with a stunning rooftop, spa, and dining options with a swimming pool and bar.
Citymax Hotel3-star Budget Hotel – You will get a luxurious residence here with free Wifi and an amazing rooftop pool area.
Best Residential Areas to stay along the coastline of RAK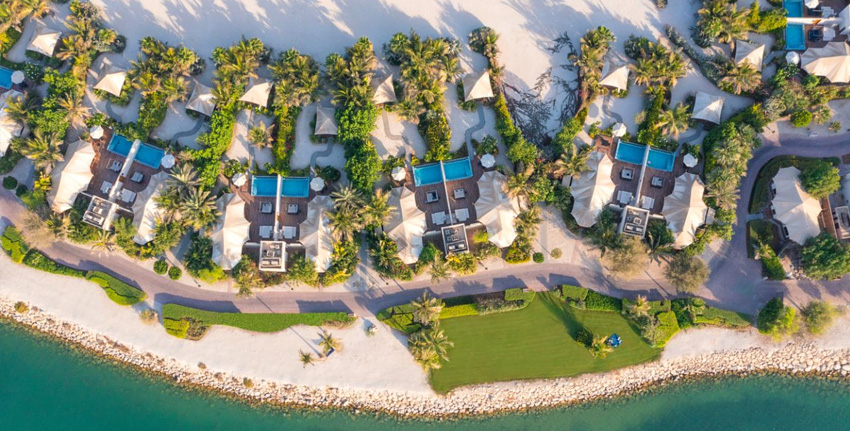 The length of the RAK coastline is extended to almost 65 kilometers. You will find the artificial Margin Islands are home to the majority of premium resorts. What you will find is given below;
Marjan Island Resort and Spa – Spectacular Man Made destination
DoubleTree by Hilton Resort and Spa Marjan Island – 13 bars & restaurants, seven swimming pools, and an eco-friendly environment.
Radisson Resort at Marjan Island – Delightful beach resort with breathtaking views of the surrounding blue waters.
Rixos Bab Al Bahr – Beautiful beach, stylish rooms, and the best-staying area for sports enthusiasts.
Besides RAK, people also go for amazing places in Dubai , where they have the option to find more luxurious hotels. If you want another stunning place to stay near the coast, Al Hamra is the best option for you.
Wrapping it up!
I have covered all the aspects of the best Places to Visit in Ras Al Khaimah . Check out your budget and then decide whether you want to enjoy the short tour in the city or the long term. Ras Al Khaimah is famous for its mountains, desert, beaches, and city.
Hikers will find this place to be the best when they will do hiking in the Hajar Mountains. Explore Bedouin life in the desert and look at nature as well as wildlife in the desert. I am sure that once you visit this place, you will try to go there again in the next coming years.
Frequently Asked Questions about Places to Visit in Ras Al Khaimah
Is there any Icepark located in RAK for tourists?
There is an Iceland park located in Ras Al Khaimah and extended to an area of 103,000 square meters to enjoy ice activities. Moreover, this park is the largest ice park in the Middle East.
Which things make tourists move forwards to Ras Al Khaimah?
Ras Al Khaimah is named the nature Emirate of the UAE which boasts a variety of opulent hotels, lovely beaches, and breathtaking landscapes.
Which months are better to go hiking in the RAK Mountains?
The best time is to choose the winter months for hiking in RAK which mainly starts from November till February. Also, the famous hiking track in RAK is the Wadi Munay.
How can you reach Ras Al Khaimah by means of a Metro?
The Burj Khalifa Metro station will take you to RAK from Dubai. If you are choosing Bus to travel, there are 12 shuttles that start the journey at 7 AM and end at night at 11 PM.
How much area Ras Al Khaimah covers in the United Arab Emirates?
Ras Al Khaimah covers an area of 373 kilometers square and is considered as the 6th largest Emirate of the UAE.