Loving pets is the most beautiful part of life. Spending a good time with your pets is the best way to get relief from the daily tough routine. My personal experience of spending time with my pets, especially on the weekends, is a good source of pleasure for me.
Loving a dog as a pet animal is an adorable thing to do. My last visit to the UAE was very enjoyable as I took my pet there. Either I was not confirmed about the best dog-friendly beaches Dubai but I did some effort and found them.
Since Dubai is famous for beaches and its activities like JBR Dubai activities. Therefore, just take your pet and land in the place to enjoy incredible things with them.
If you have a glimpse of history you will find Dubai as not a pet-friendly state. The reason can relate to the hot weather but most families love to visit the beach with pets.
Therefore, it has now become more pet friendly than in the past. The dog-friendly beaches Dubai gives visitors a chance to play, swim, and relax with dogs in beach waters. It is important to know that the UAE government has strict laws for dog ownership.
However, tourists are provided with the best places to enjoy their day in the sun.
Dubai Dog-Friendly Beaches – A Comprehensive Guide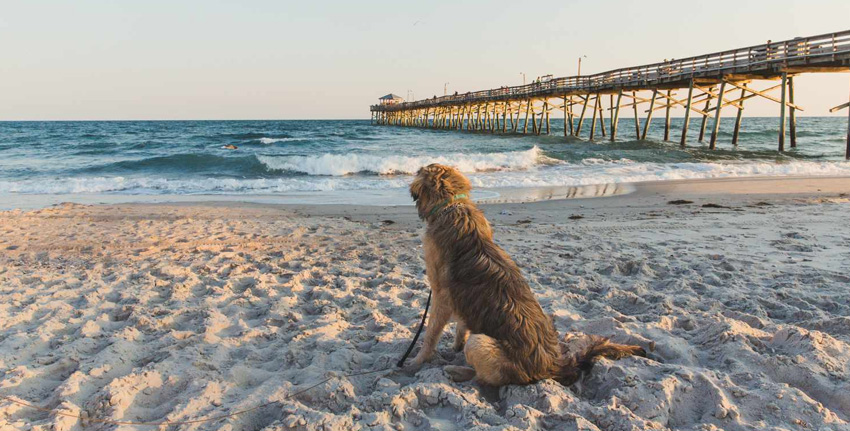 A comprehensive guide on beaches for dogs will inform you about the famous Dubai pet-friendly beaches. I have pointed out all the places where you can easily stroll with your pets and where they are permitted without any restrictions.
The Pointe Beach – Best Dog-Friendly Beach Dubai
The things to do at Palm Jumeirah are not neglectable for tourists. But the charm they can enjoy with their pets in Jumeirah can only be attained at Pointe Beach. To gain a relaxing and revitalizing experience be thankful for the expansive vistas and cool coastal breeze of the place.
The fantastic views of Atlantis, The Palm Hotel, and the promenade will relax you and your lovely pet. Whether you are there to have a sunset cocktail, a supper, and a lunch, you can enjoy excellent meals. Pet-friendly restaurants and seaside locales will provide you with all meal amenities for you and your pet.
Stunning Palm West Beach in Palm Jumeirah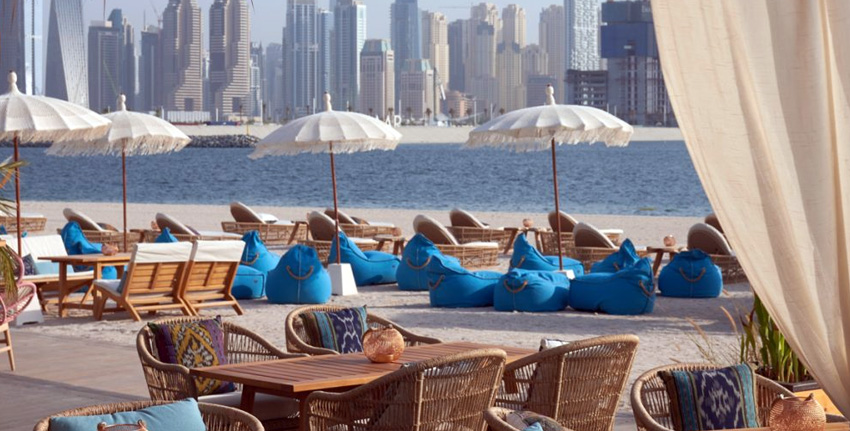 The most beautiful Palm West dog-friendly Beach with all seaside entertainment is provided in Palm Jumeirah. A newly opened beach that welcomes pets in a great way with almost 300 Palm trees is Palm West Beach.
Among all the pet-friendly places in Dubai, an open-beach side area where pets can easily run is Palm West. Dogs can easily run there while their owners can relax, eat, or engage in water activities. However, it is frequently urged for visitors to keep their dogs leashed and out of the water.
This Jumeirah public beach has a stretched area of around 1.6km with eight luxurious hotels. All hotels are best in providing amenities to visitors and hence are the Five Star hotels of the city.
The best part of visiting the beach that makes my adventure full of fun is an amazing thing for visitors to do there. I am talking about jogging along the coastlines in the early morning with your pet is a great idea. I have done this with my lovely dog that is why I suggest you do so.
Other beaches with stunning activities include La Mer Dubai activities , a place that is amazing in its views. Since dog-friendly Dubai beaches are limited, get relaxed at Palm West Beach. Take part in water activities to do some adventure like kayaking, SUP boarding, sea bikes, and others.
Use beach buggies to explore more and more spots in the area and enjoy delectable international meals with your lovely beach dogs.
Golden Tulip Al Jazira – Dog-Friendly Beach UAE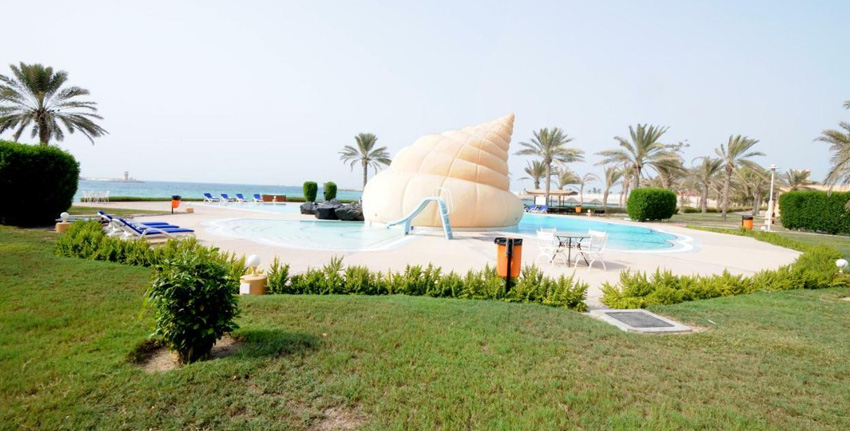 A clean, beautiful, and peaceful dog-friendly beach in Dubai is built in the Al Jazira. Visitors are here allowed to collaborate with other dog owners and enjoy a fun time with their dogs. It is beneficial to visit the beach in the evening or early morning as the weather is moderate.
The cool weather for dog lovers will unwind them in a beautiful way by taking part in different water sports. It is suggested to do an advance booking before visiting the Golden Tulip Al Jazira Beach.
Dog-Friendly Entertainment Beaches Beyond Dubai
If I have a look beyond Dubai, I surely find some other entertaining beaches for dogs. Unfortunately, dog lovers will find limited choices in Dubai but there are some choices in Abu Dhabi as well. Let's investigate what other dogs' beaches are in the UAE.
Kite Beach Centre – Best Destination to swim with your Dog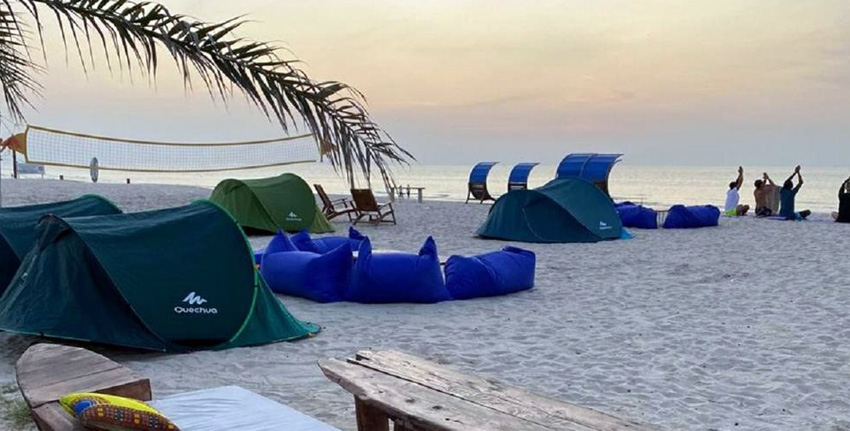 A dog-friendly beach located a little far away from Abu Dhabi is the Kite Beach Center. The Kite Beach Center Umm Al Quwain. There is a good range of activities for tourists to take part in with their pets. The one and only place that permits swimming with dogs is the Kite Beach Centre.
Since two individuals are visiting the beach, the ticket pricing for both man and dog is different. You have to pay 75 AED for your dog and 45 AED for yourself to enjoy the vibrant atmosphere. You may also go for Yacht Rental in Dubai , but make sure pets are allowed on yachts or not.
Best Dog-Friendly Place in Abu Dhabi – Kite Beach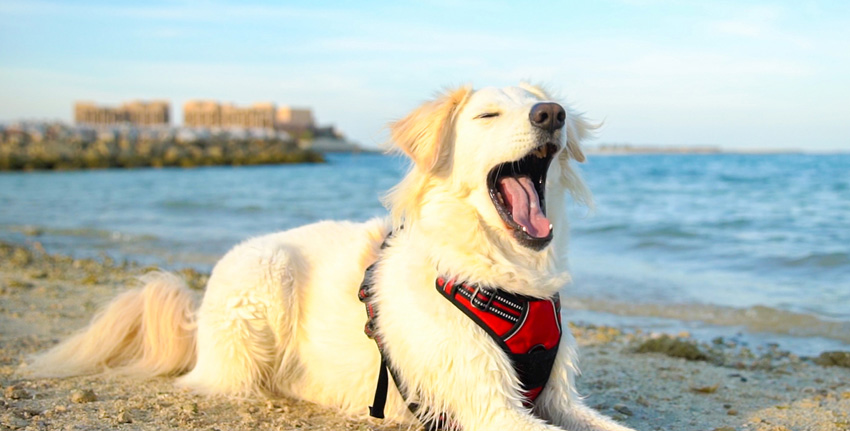 Be happy if you are a dog owner because Abu Dhabi is the best animal-loving destination. Enjoy a stroll with your furry friend at Kite Beach Abu Dhabi along the coastline. It all depends on your choice whether you want to enjoy yourself alone or to spend time with your lovely friend.
Indulge in the recreation of the beach by saying goodbye to the hustle and bustle of a tough life routine. Choose a self-drive option just as the people do in the case of 4 x 4 Desert Safari , take your pet with suitable food, and have a leisurely fun time there.
A relaxing and Stress-Free Resort – BM Beach Resort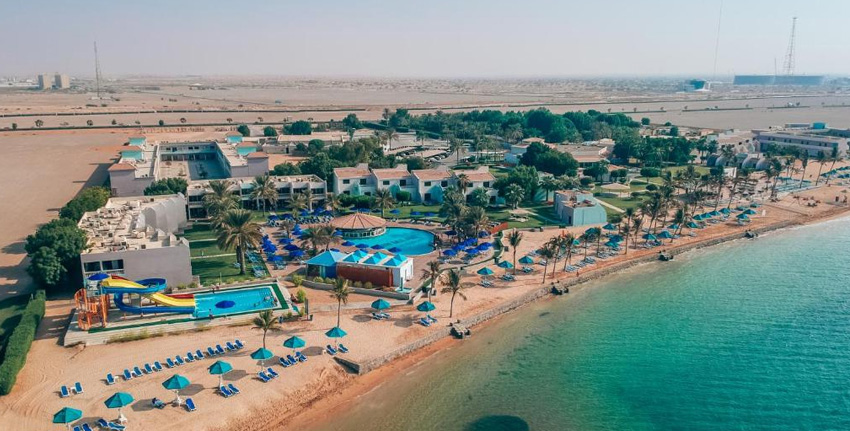 In order to have a timeless feel with a lot of modern facilities on the beach resort, the BM beach resort in Ras Al Khaimah is the ideal location. Take your furry friend to enjoy the lush green plants and stunning beach water views. Although there are the best desert resorts for desert lovers, this beach resort is the first dog-friendly beach in Al Khaimah.
You will get everything you wish to buy from the resort. You can unwind on the beach, drink cocktails, and eat dinner with your pet. Don't worry about the favorite food of your dog. In addition to some famous dog bites and treats, the resort serves a special bar to satisfy your appetite.
Al Hamra Ras Al Khaimah – Ideal for Pet Owners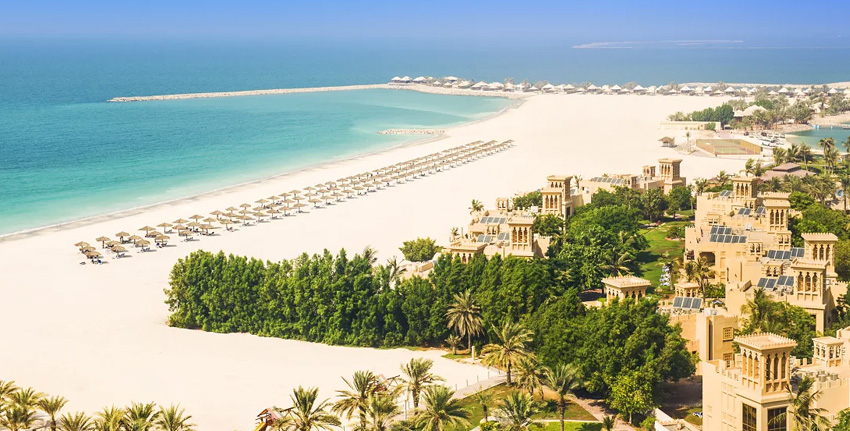 The Al Hamra waterfront is the perfect dog beach for pet owners. An ideal gateway to proceed with your furry friend and soaking up the sun can be done easily in the Al Hamra resort. Do you acknowledge the best dog communities in the United Arab Emirates?
While visiting the place with my pet, I realized that Ras Al Khaimah and Bab Al Bahr are the perfect pet communities. You are free to walk with your pet, play and enjoy, but make sure about the cleanliness of the spot.
There are pet waste sections made a few meters from the place for cleaning of the place. Being a dog owner, be aware of all the pet rules before visiting such areas.
The Mangrove Beach- An Abode of Pristine Waters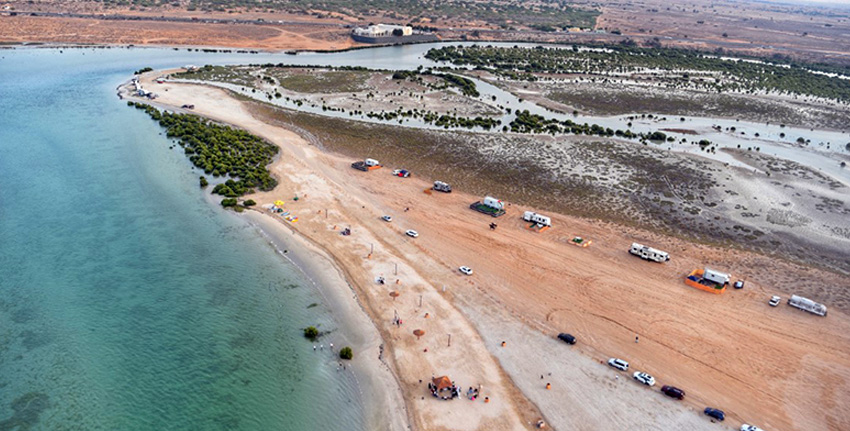 Have you ever explored a place in the heart of nature? If not yet, you are allowed to have the best natural experience in Mangrove Beach. The best ever place to do windsurfing either with your pet is an amazing adventure at the beach.
You are allowed to kayak or have a walk along the beachside. Another exciting thing for tourists about this beach is that the parking is free. This beach is located in Umm Al Quwain, a heaven on earth for water activities.
Best Dog-Friendly Dining Restaurants in Dubai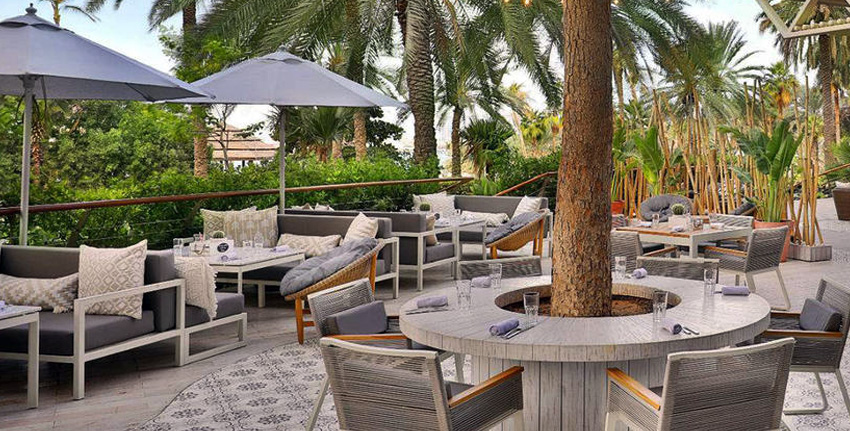 Tired of spending a full day on the beach with your furry dog? Let's go for the best dog-friendly dining restaurant. Although there are good dining options for tourists, they must follow some rules for their pets.
Reform Social & Grill – Dubai's First True Gastropub
Not all restaurants in the city will give a dog-friendly environment. For this purpose, Dubai has introduced the first true gastropub, Reform Social & Grill. The famous dog-friendly restaurant is located in the Lakes Dubai.
This is a place that welcomes the well-mannered dog as well as his owner to enjoy excellent supper. If you are visiting the place in summer, get ready for a cooled patio area.
It was seen in the past when the Arabs didn't like to welcome pets, especially dogs. But for now, a very good example is set by such Reform Social & Grill restaurants. Leash off your four-legged pet to the designated lawn area and follow the safety rules.
Arrows and Sparrows Café – A Purveyor of Casual Dining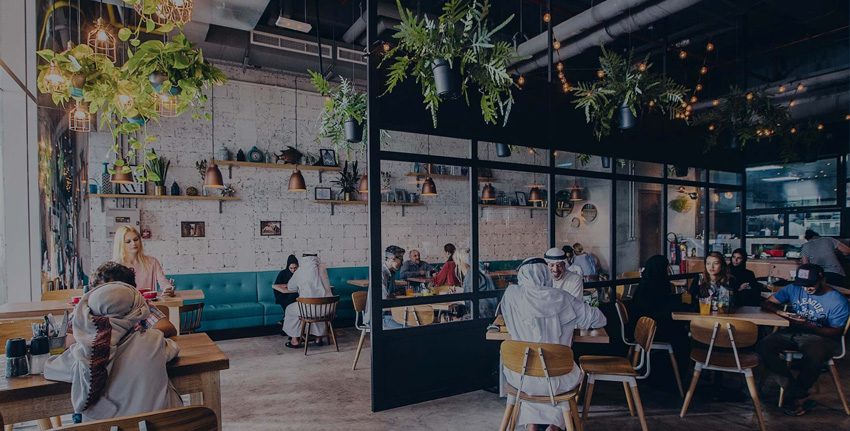 If you are in quest of finding a restaurant that is child friendly as well as a pet-friendly dining area, your quest will end here. It has a dog-friendly walking park in it where you can easily stroll with your furry friend.
The amazing café is famous for its Great Coffee with casual dining options. Moreover, you are allowed to go for the outside porch with your pet. Besides pets, other lovable places are famous in Dubai to walk in and explore. The popular one is the Dubai Fountain Boardwalk for tourists to view the magnificent views of the dancing fountains.
Boston Lane – Humble Food and Coffee Project
A popular humble food and coffee project lies in the underground art of Dubai. Another place to have a good breakfast with your lovely pets including irresistible toasties is available in Boston Lane. If you are finding an excellent courtyard area, Boston Lane is the perfect place for you.
The Irish Village – An Amazing Pub Set up
Haven't found a place to serve your dogs in a well-catered way with watering bowls? Don't worry, the Irish Village is here to give you a pub set up for an ideal dog-friendly environment in Dubai.
This place is the best dining place for families in winter as well as dogs. Make sure to clean the place after your pets and kids have played in the place.
Counter Culture Café – Pet-friendly Terrace
The famous Counter Culture café is located in Dubai Marina. This is the best place that welcomes your pooch in an excellent way and features a lot of things in it. If you are looking for fresh juices and smoothies to escape out from warm Dubai weather, this place is for you.
More things for Dubai Marina are present near you. Therefore, if you are on the planet of Marina, explore all the fascinating things in it.
Dog-Friendly Restaurant in Palm Jumeirah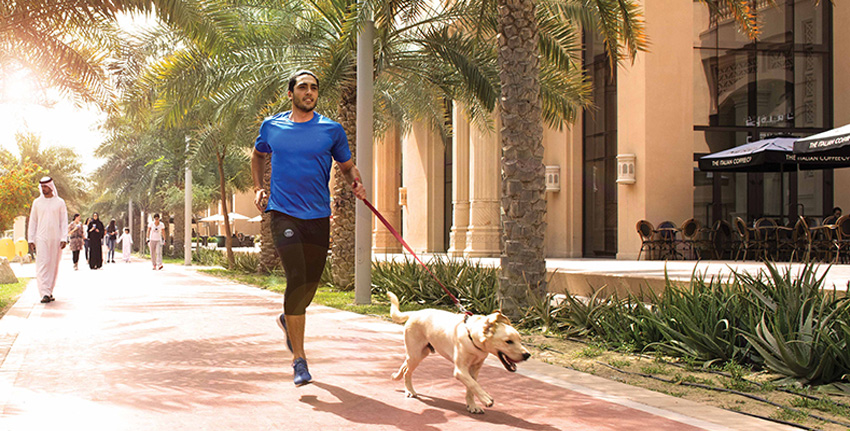 Since Pointe Beach is the first place to visit with your pet, you must know that it is located in Palm Jumeirah. There are numerous dog restaurants in Palm Jumeirah but a few I will discuss below.
Chicago MeatPackers – Modern American Restaurant: The CMP bar and grill is located on the Pointe with amazing doggy menus for pets.
Brunch & Cake Dubai – Best Breakfast Spot: Enjoy a delectable breakfast, coffee, lunch, and supper with your pup at the famous dog-friendly breakfast spot Dubai.
Breeze Beach Grill – Best for a dog paw-ty: The location of this hotel is on the corner of Club Vista Mare. It gives magnificent sea views while enjoying dining with your pup.
Best Hotel to Stay with Your Pet in Dubai?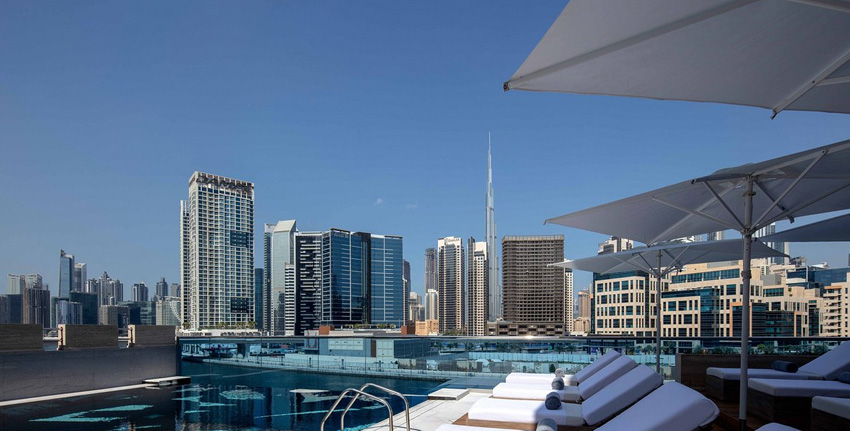 I wondered about a point: are there any hotels in Dubai that facilitate me with amazing amenities for my pet as well? The answer is quite simply hidden in the name of Hotel Indigo Dubai.
This beautiful hotel welcomed my pet in the most effective way that I would suggest you visit it once. You are allowed to have a deep sleep with your puppy.
There are many venues that will give you dining ideas with your dogs. If your dog has a weight below 20 kg, you can take him to your room. Besides this in accordance with the hotel policy, you have to take him with you 24/7. You are allowed to take only one puppy or two in your room.
Wrapping it up!
As I have tried my best to give you a comprehensive guide to dog-friendly beaches Dubai. I am glad to hope that you will enjoy your tour with your pet. You are allowed to play and enjoy, however, keep the places clean by your pets.
Maybe you find other amazing options while visiting the places. So, have a fun time with your friends, family, and pets when you visit the pet-friendly beaches.
What people ask about Dog-Friendly Dubai Beaches
Is it allowed to take dogs on public transport in Dubai?
You are not allowed to take your pets on public transport like Dubai Metro, taxi rides, buses, or other transport options.
Which beaches are famous for strolling your dog?
The popular dog-friendly beaches in Dubai for strolling are given below;
Jebel Ali Beach – A hidden pet-friendly beach
Al Warqa Beach – A Popular spot for people walking dogs
Beach near the Dubai College
Which beach is famous for dogs swimming in the UAE?
The Kite Beach Center, Umm Al Quwain is the best place to take your pooch for swimming.
Are you allowed to take dogs to La Mer Beach?
No, La Mer Beach management doesn't support the idea of taking dogs with you. Therefore, it is not comfortable to take them with you.
Is it suitable to take dogs in sandy areas?
It may be possible that your dog will not be happy to stay in the sandy areas. Therefore, instead of having a full-day trip, plan a half-day trip and be sure about your pet's mood.